Apollo 50th Anniversary Celebration
July 20 @ 10:00 am

-

5:00 pm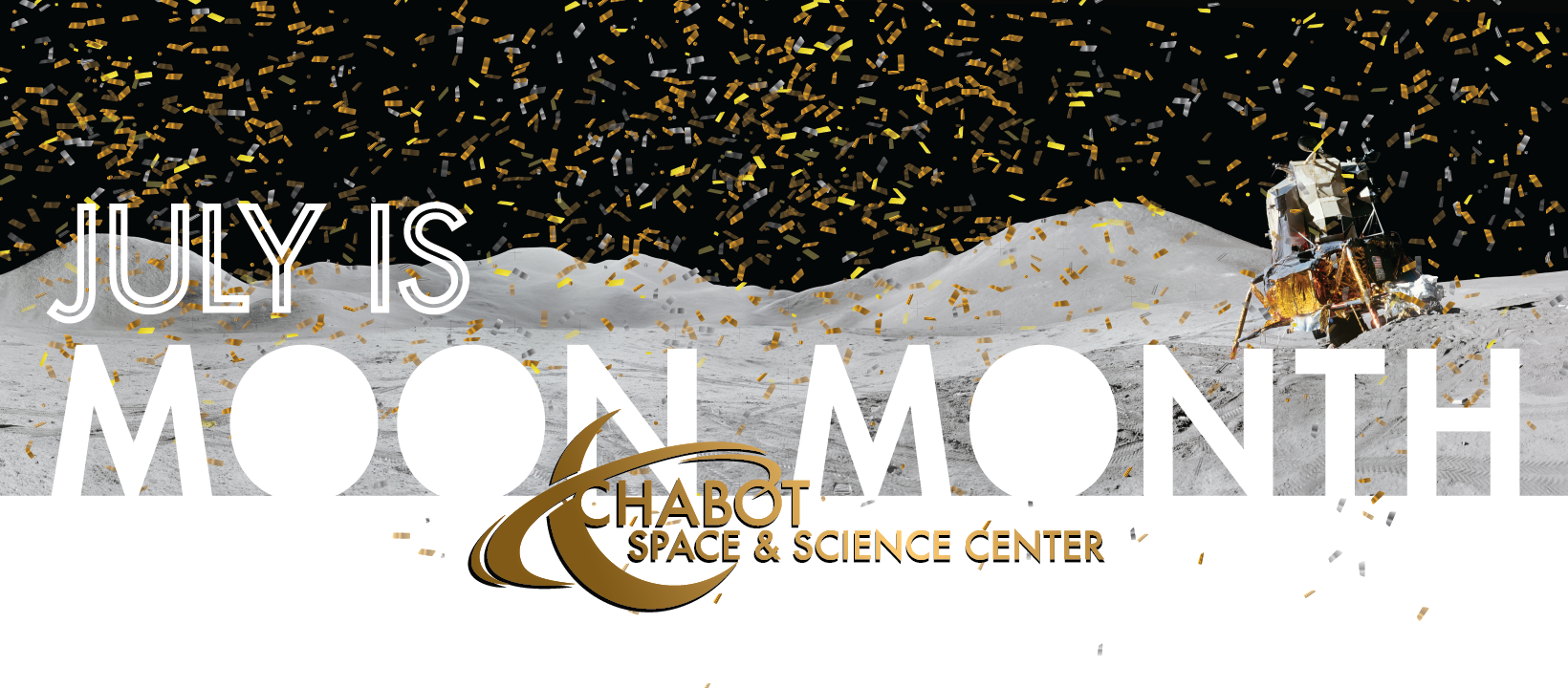 During the 1960s and '70s, NASA sent nine missions to the moon. Six of them landed astronauts safely on the surface. This is the only time humans have visited another world. July 20, 2019 marks the 50th anniversary of the first humans landing on the Moon as part of NASA's Apollo 11 lunar mission.
Free with Admission
Celebrate the 50th anniversary of Apollo 11 with hands-on moon demos, a new planetarium show, Lunaverse and more! 
Schedule
Hands-On Moon Activities
10am-5pm
Learn all about the moon through hands-on activities and demos with out Galaxy Explorers!
Luminous Moon Exhibit
10am-5pm
Astronomy Hall
This is the moon as you've never seen it! An exhibition of high-resolution lunar images captured by NASA astronauts, satellites and from Oakland's own Chabot telescopes. In addition to stunning images of our Moon, there will be hands on activities related to our closest neighbor for visitors to explore. The world is looking at the Moon through a new lens.
Lunaverse
10:30am
Planetarium
"Lunaverse" explores the nature of Earth's moon: its motion and phases, lunar and solar eclipses, tides, and the Moon's origin. The story unfolds as a conversation between a curious young child and the Moon—Luna—over the course of a night, from moonrise to moonset.
Chasing the Moon Documentary Viewing
11:30am
Megadome Theater
In 1969, humanity paused and looked skyward to witness the impossible. Fifty years later, pause once again. CHASING THE MOON premieres across three nights, beginning July 8 on PBS.
Join American Experience and PBS to relive the journey that defined a generation. "Chasing the Moon" recasts the Space Age as a fascinating stew of scientific innovation, political calculation, media spectacle, visionary impulses and personal drama, utilizing a feast of previously overlooked and lost archival material. https://www.pbs.org/wgbh/americanexperience/features/chasing-moon-teaser/
Astronaut
12pm
Planetarium
Mini Missions: Escape from The Moon!
12pm & 3pm
Challenger Learning Center
Do you have the right stuff to make an emergency escape from the moon in your spacecraft? Join us this First Friday for this new, exciting, and immersive mission simulation.
Lunar Landing Countdown
1:18pm
The Apollo 11 lunar lander touched down on the moon's surface at 1:18pm PST! Join us for a countdown to mark 50 years!
Lunar Talk by Gerald McKeegan
1:30pm
Megadome
Join us for a talk by Astronomer Gerald McKeegan all about lunar geography and geology, and the contributions to lunar science that came (and are still come) out of the Apollo Missions.
Tale of Many Moons
2pm
Planetarium
Let us fly you to the Moon – and maybe two or three others. The moons of the Solar System are richly diverse: as fantastic and far-flung as the planets they circle. We'll take you on a journey to some of the most mysterious, beautiful, and awe-inspiring natural satellites that our robotic spacecraft have yet revealed.
Apollo 11 (2019) Film Showing
3pm
Megadome
Never-before-seen footage and audio recordings take you straight into the heart of NASA's most celebrated mission as astronauts Neil Armstrong and Buzz Aldrin embark on a historic trip to the moon. Rated G.
CELEBRATE THE 50TH ANNIVERSARY OF THE APOLLO MOON LANDING WITH A MONTH OF MOON-THEMED EVENTS THIS JULY.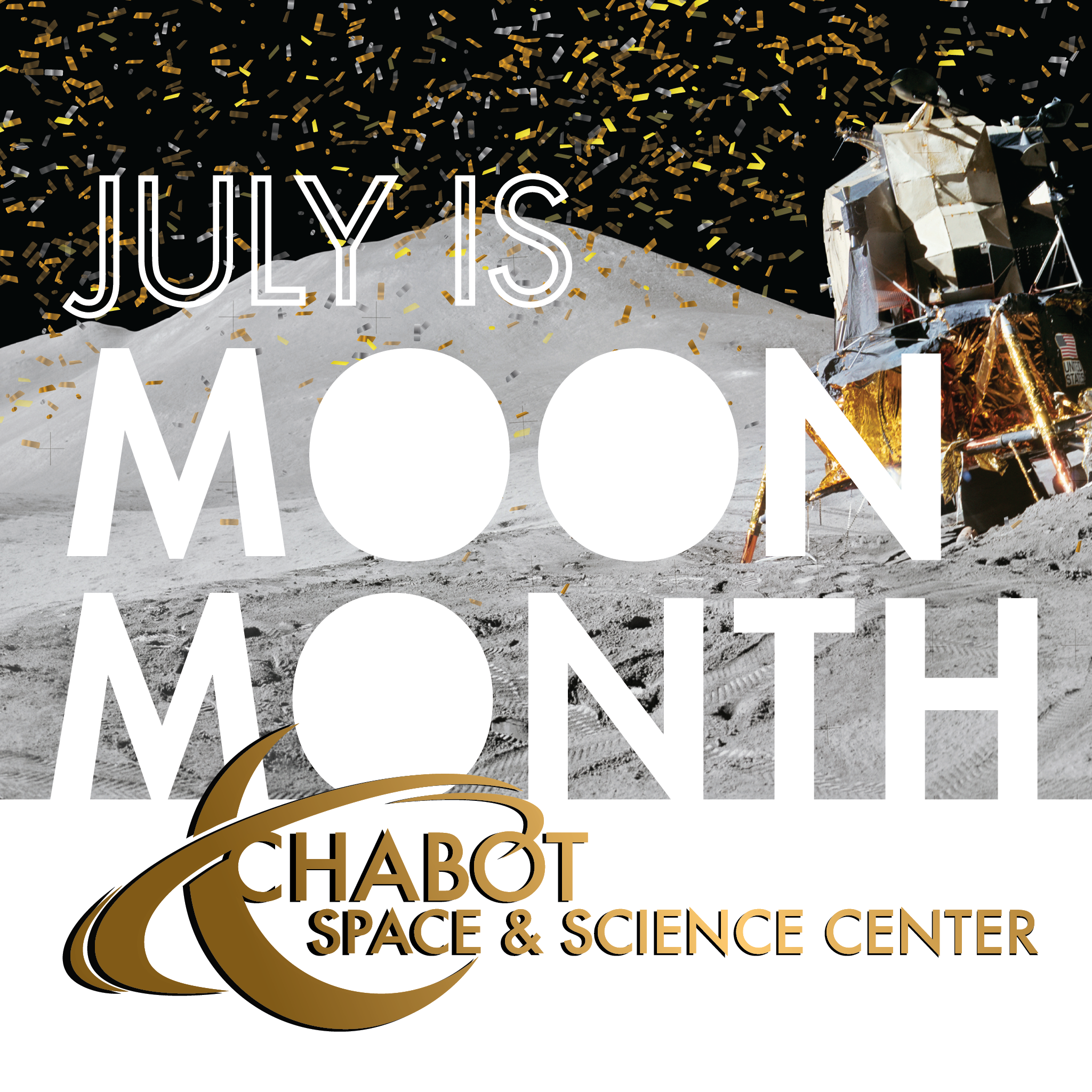 The Apollo 11 Moon landing was one giant leap for mankind that brought us further than ever before. Now, we're bringing you closer to the Moon through themed activities all throughout the month of July.With a new exhibit,  Full Moon Adult Hike and Sip, Lunar First Friday and multiple celebrations around 50th Anniversary on July 20, there is something for everyone this Moon Month!
See More Moon Month Events At Chabot