Apollo Party 21+
July 20 @ 6:00 pm

-

10:00 pm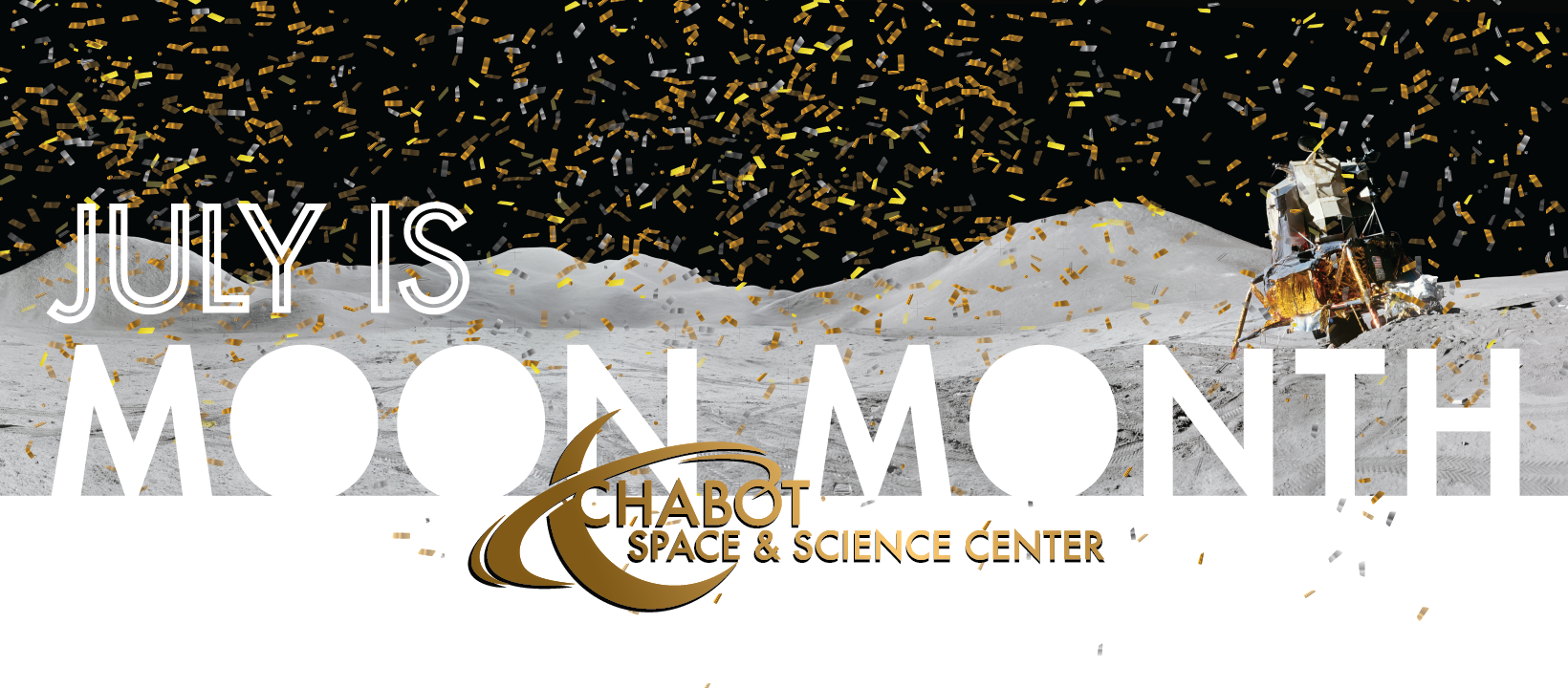 An adults-only, after hours celebration of the first moonwalk
Saturday, July 20, 6-10pm
$14, $9 for members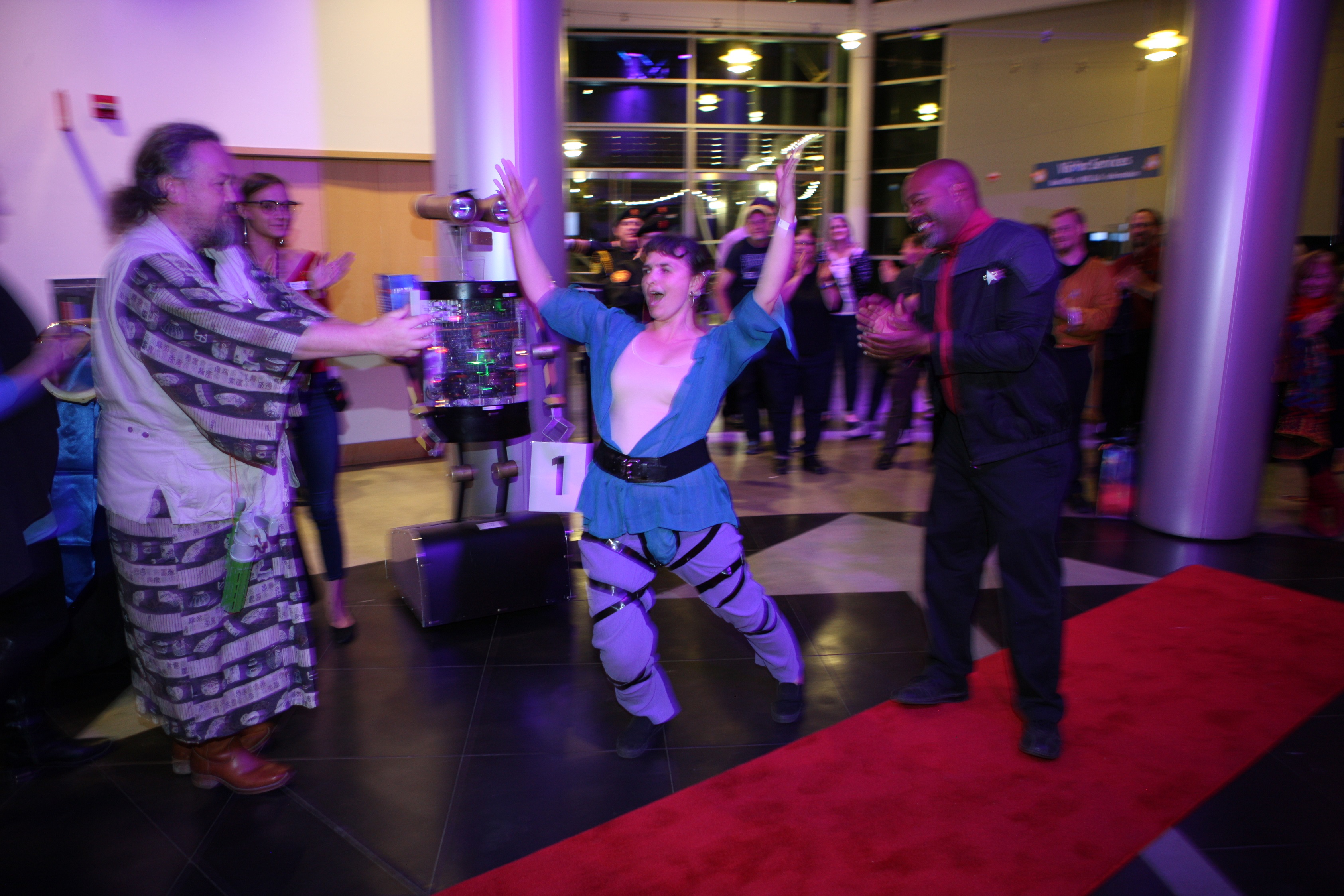 Grab a moon cocktail, show off your stellar moves on the dance floor, and sing your heart out at space karaoke. Enjoy live performances by Blue Eternity in our Planetarium and experience a simulated mission to the moon in our Challenger Spacecraft.
Buy Tickets
Schedule:
Marvelous Night for a Moon Dance Party
6-10pm
Rotunda
If you've been practicing the moon walk NOW IS YOUR TIME TO SHINE! All other dance moves welcome.
Lunar Lounge
6-10pm
Hauben Room
A chill space for lounging and moon-themed karaoke! Are you going to sing Sinatra or that one song from Mulan? You know the one.
Astronaut Training
6-10pm
Chem/Phys Lab
Do you have what it takes to be an astronaut? Test your balance, agility, hand-eye coordination. And science knowledge in our Astronaut Training Lab. For an extra challenge: train after you've have a couple signature Apollo Party cocktails.
Luminous Moon Exhibit
6-10pm
Astronomy Hall
THIS IS OUR MOON AS YOU'VE NEVER SEEN IT
The only thing more extraordinary than the science we are learning about the Moon is its incredible beauty.
Chabot's stunning new photographic essay explores the Moon's sweeping craters and once-active volcanoes, with photos by NASA astronauts who witnessed its beautiful desolation firsthand, new views captured by our own astronomers using Chabot's reflecting telescope, and images taken via satellite that allow us to explore places we have not even yet visited.
Featuring more than 50 stunning high-resolution images, lunar artifacts and interactive opportunities for all ages, this exhibition invites the public to consider the Moon in new ways.
Return to the Moon
Start times: 6:30pm, 7:30pm, 8:30pm
Challenger Learning Center
The year is 2024 and you will be the first humans to return to the moon in 52 years! Your mission is to deploy a robotic probe, and then land on the lunar surface. Do you have the right stuff? Let's find out!
Each mission is 45 minutes long. 18 people per mission. Sign up at the Challenger Learning Center.
Saturn V Rocket Talk
6:30-7:30pm
Planetarium
As we witnessed each launch of the Apollo program, we would forever remember the countdown, ignition sequence, images of the Saturn V rocket engines billowing out vast, fast and furious hot gas, and then lift off. We'll never forget those sheets of ice breaking off the exterior and raining down on the launch pad as the rocket cleared the tower. What we saw, what we remember, and the extent of what was broadcast on the daily news is a very small fraction of all that led to NASA's greatest achievements.
Highlighting some of the interesting and little known technical aspects of the various missions, Faride Khalaf will take you down memory lane and visit the Apollo program in a unique way. We will focus on some of the details starting from launch preparation to the last rocket blast that sent the gallant crew and their spacecraft to the moon. In this presentation, you'll find answers to questions that Walter Cronkite never thought to ask! Come join us and relive the oldest of human dreams, a dream worth revisiting.
Speaker Bio:
Faride began his aviation career as a skydiver in 1982. He got his FAA Airframe and Powerplant licenses from College of Alameda in 1985 and became an FAA Authorized Aircraft Inspector (I/A) in 2001. He was an Aircraft Mechanic Instructor at the late Sierra Academy of Aeronautics in Oakland for several years beginning in 1986. He's been a Private Pilot for over 30 years. He was a General Mechanic at United Airlines for a decade. During two of those years He was a Mechanic Instructor teaching structural repairs, and for two years was a Fuel Systems Specialist. Faride is the owner of a 1947 Cessna 120. Faride is an amateur astronomer and a former volunteer telescope operator at Chabot Space and Science Center.
The Moon Then and Now: How we got there 50 years ago and how we'll go back
7:30-8:15pm
Megadome
Speaker: Jay Trimble
Jay Trimble is a member of the Intelligent Systems Division at NASA's Ames Research Center in California's Silicon Valley. He's working on formulation of operational concepts for crewed and robotic lunar landers. Jay is the founder and team lead for NASA's Open Mission Control Technologies (Open MCT) project. Prior to this, served as mission operations and ground data system manager for the Resource Prospector Lunar Rover Project, a forerunner to current lunar landers. Jay founded and led the User Centered Technology Group, which developed open source mission control technologies, the MERBoard Touchscreen for Mars Rover Operations, and Planetary Data System user technologies.
Prior to joining Ames, Jay was the integration and test manager for the High Energy Solar Spectroscopic Imager at the University of California, Berkeley in Berkeley, California. At the NASA's Jet Propulsion Laboratory in Pasadena, Jay was lead operations director for Space Radar Lab, which flew two successful missions on Space Shuttle Endeavour. In addition, he was a member of the science operations support team for the Voyager Spacecraft encounter with Neptune. At NASA's Johnson Space Center in Houston, Texas, Jay was a space shuttle mission controller in the Payloads discipline.
Jay received his Bachelor's degree in Geology from U.C. Berkeley, and a Masters degree in Computer Science from USC.
Telescope Viewing
7:30-10:30
Telescope Complex
First Steps Countdown
7:56pm Celebrate the moment a human being took the first step on the lunar surface, exactly 50 years later.
Moon Tattoos
8-10pm
Get inked with airbrush moon tattoos!
Blue Eternity Performance
8-8:45pm
Planetarium
The Blue Eternity trio brings LIVE ambient music to The Chabot Space and Science Center's Apollo Party. The music you'll hear will be played by award winning trumpet player Jeff Oster, Grammy nominated bassist Michael Manring, and ambient electric guitarist Carl Weingarten. As you listen, you'll experience the wonders of an immersive and instructive journey through the stars and beyond. Join us! https://youtu.be/eyThCqgd7aI
NASA Instrument Development and the Near Infrared Volatile Spectrometer System
8:30-9:15pm
Megadome
Speaker: Dr. Amanda Cook
Dr. Amanda Cook is an Instrument Scientist at NASA's Ames Research Center in California's Silicon Valley. She's the Integration and Test Lead for a water-sensing lander instrument called the Near Infrared Volatile Spectrometer System or NIRVSS, which is being sent to the moon in 2021. Dr. Cook will discuss upcoming lunar missions and the history and future of lunar science, while also sharing some humorous stories about life as an instrument developer at NASA.
Space in Your Face!
9:15-10 p.m.
Planetarium
A comedy variety show focused on the untold stories of the Apollo missions!
Host: Julia DeMarines
Julia DeMarines is an Astrobiologist and science educator. She is a former educator at Chabot Space & Science Center and teaches with the international group of scientists/educators called the Ad Astra Academy, and is a 2018 National Geographic Teacher Fellow. She is a research scientist at Berkeley SETI Research Center and the Blue Marble Space Institute of Science. She holds a Master's degree in Space Studies from the International Space University (Strasbourg, France) and a Bachelor's degree in Astronomy from the University of Colorado. Her research focus has been primarily on the subject of remote biosignature detection on exoplanets, the ethics behind messaging extraterrestrial intelligence, and the impact of informal educational activities. She has previously worked at the Denver Museum of Nature & Science, NASA Ames, and NASA Langley, and Fiske Planetarium. In 2018, Julia spent two weeks living and working on "Mars" at the Mars Desert Research Station in Utah, as their Astronomer and Green Hab Operator.
CELEBRATE THE 50TH ANNIVERSARY OF THE APOLLO MOON LANDING WITH A MONTH OF MOON-THEMED EVENTS THIS JULY.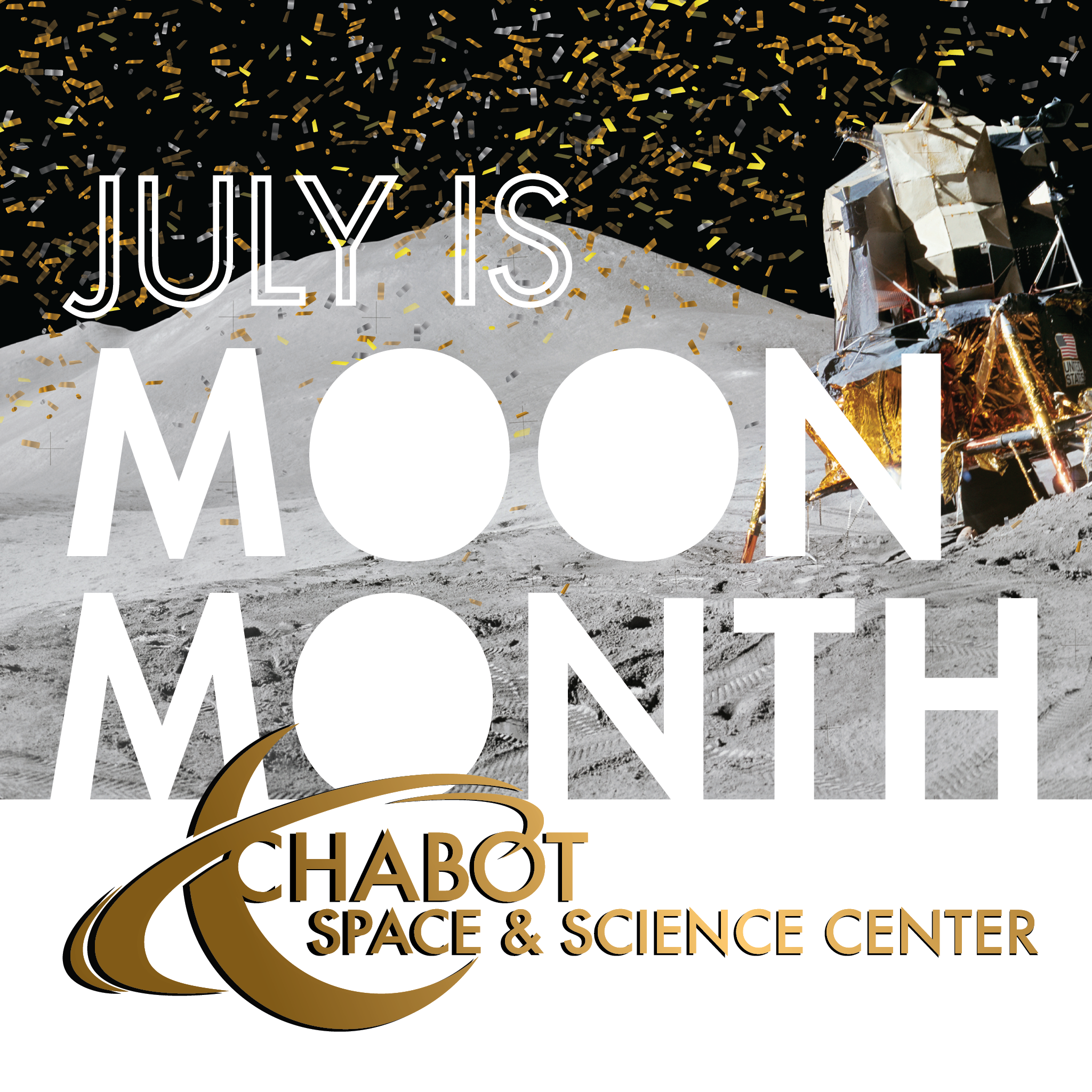 The Apollo 11 Moon landing was one giant leap for mankind that brought us further than ever before. Now, we're bringing you closer to the Moon through themed activities all throughout the month of July.With a new exhibit,  Full Moon Adult Hike and Sip, Lunar First Friday and multiple celebrations around 50th Anniversary on July 20, there is something for everyone this Moon Month!
See More Moon Month Events At Chabot