Lunar First Friday
July 5 @ 6:00 pm

-

10:00 pm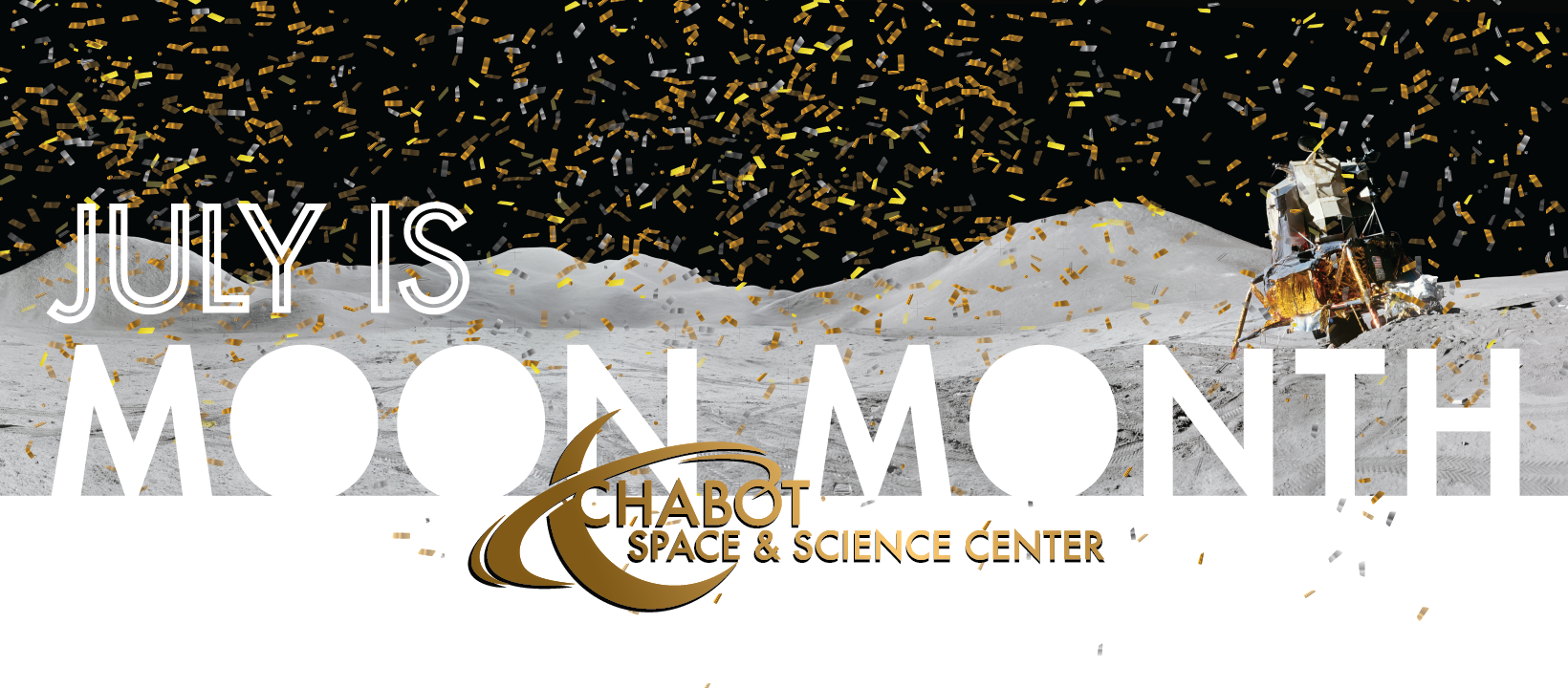 Lets kick off our July 50th Apollo Anniversary events at Chabot!
Catch a glimpse of our new moon rock brought back from the Apollo 16 mission, learn all about the moon through hands on activities, and watch our new Planetarium show, Lunaverse. Learn about the moon's origin and explore its motion, phases, tidal effects, and eclipses. Watch the preview of the new PBS series Chasing the Moon before it airs and join Chabot astronomer and KQED science contributor, Ben Burress, in conversation with KQED senior science editor, Kat Snow, after the show!
Buy Tickets
Schedule:
Member Lounge
5-10pm
Galileo Room
A relaxed space for members to enjoy light refreshments and activities.
DJ Dance Party!
6-10pm
Courtyard
Join the DJ for a giant dance party for all humankind!
Luminous Moon Exhibit
6-10pm
Astronomy Hall
This is the moon as you've never seen it! An exhibition of high-resolution lunar images captured by NASA astronauts, satellites and from Oakland's own Chabot telescopes. In addition to stunning images of our Moon, there will be hands on activities related to our closest neighbor for visitors to explore. The world is looking at the Moon through a new lens.
Zeiss Astronomy Presentation: The Sky Tonight
6:30pm & 7:15pm
Planetarium
Explore the cosmos as a Chabot Astronomer leads you through the galaxy using a Zeiss Universarium Mark VIII Star Projector. This recently restored Zeiss projector uses advanced fiber-optics to project stars with astonishing clarity.
NASA Ames Talk
6:30-7pm
Hauben Room
Join NASA's Cara Dodge for a presentation on the agency's lunar history and future plans, including the Artemis program and Moon 2024.
PBS Documentary Chasing the Moon Sneak Preview and Talkback
7pm
Megadome Theater
In 1969, humanity paused and looked skyward to witness the impossible. Fifty years later, pause once again. CHASING THE MOON premieres across three nights, beginning July 8 on PBS.
Join American Experience and PBS to relive the journey that defined a generation. "Chasing the Moon" recasts the Space Age as a fascinating stew of scientific innovation, political calculation, media spectacle, visionary impulses and personal drama, utilizing a feast of previously overlooked and lost archival material.
Speakers:
Ben Buress
Benjamin Burress has been a staff astronomer at Chabot Space & Science Center since July 1999. He graduated from Sonoma State University in 1985 with a bachelor's degree in physics (and minor in astronomy), after which he signed on for a two-year stint in the Peace Corps, where he taught physics and mathematics in the African nation of Cameroon. From 1989-96 he served on the crew of NASA's Kuiper Airborne Observatory at Ames Research Center in Mountain View, CA. From 1996-99, he was Head Observer at the Naval Prototype Optical Interferometer program at Lowell Observatory in Flagstaff, AZ. Read his previous contributions to QUEST, a project dedicated to exploring the Science of Sustainability.
Kat Snow
Kat is a 25-year veteran of public broadcasting and an award-winning reporter and editor. She's been at KQED since 2002, and before that was a reporter and news director at KUER in Salt Lake City, and a freelance reporter in Oregon. She's written for Newsweek and The Atlantic, in addition to her public radio credits. She also coaches reporters and others in embodied narration and public speaking. Outside of radio, Kat loves conscious dance and is a Certified Teacher of Soul MotionTM.
Story Time
7:30pm & 8:15pm
Observation Deck
Gather around our Master Storyteller and hear exciting tales! Fun for the whole family.
Telescope Makers Workshop
7:30-10pm
Chemistry/Physics Lab
Open to all ages, the Telescope Makers' Workshop is an all-volunteer group committed to helping people build their own telescopes. Drop in to see what they are up to.
First Man (2018) Film Showing
7:30-10pm
Hauben Room
A visceral, first-person account, based on the book by James R. Hansen, the movie will explore the sacrifices and the cost—on Armstrong and on the nation—of one of the most dangerous missions in history. Rated PG-13.
Telescope Viewing
7:30-10:30pm
Telescope Complex
Lunaverse
8pm
Planetarium
"Lunaverse" explores the nature of Earth's moon: its motion and phases, lunar and solar eclipses, tides, and the Moon's origin. The story unfolds as a conversation between a curious young child and the Moon—Luna—over the course of a night, from moonrise to moonset.
Tale of Many Moons
8:30pm
Planetarium
Let us fly you to the Moon – and maybe two or three others. The moons of the Solar System are richly diverse: as fantastic and far-flung as the planets they circle. We'll take you on a journey to
some of the most mysterious, beautiful, and awe-inspiring natural satellites that our robotic spacecraft have yet revealed.
NASA TV Live Stream
8:30-10pm
Megadome
Catch up on the latest with NASA with our live stream of NASA TV!
Star Stories
9:15pm
Observation Deck
Come listen to an expert stargazer explain the mythology behind the constellations, stories from the night sky as seen throughout history and look for planets and other clues to help orient you to the night's sky.
Dark Side of the Moon Laser Show
9:15pm
Planetarium
CELEBRATE THE 50TH ANNIVERSARY OF THE APOLLO MOON LANDING WITH A MONTH OF MOON-THEMED EVENTS THIS JULY.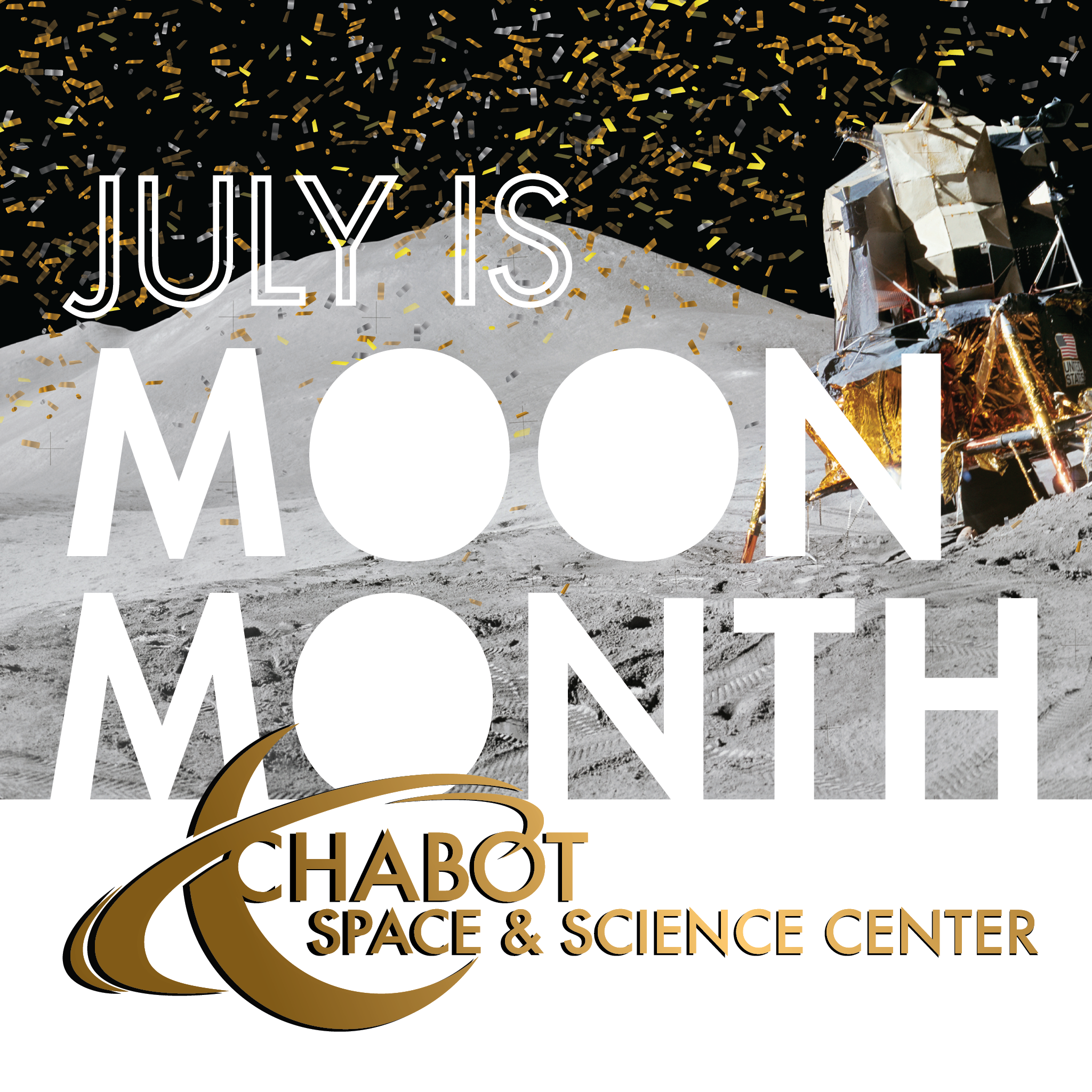 The Apollo 11 Moon landing was one giant leap for mankind that brought us further than ever before. Now, we're bringing you closer to the Moon through themed activities all throughout the month of July.With a new exhibit,  Full Moon Adult Hike and Sip, Lunar First Friday and multiple celebrations around 50th Anniversary on July 20, there is something for everyone this Moon Month!
See More Moon Month Events At Chabot