Starlight Gala: Elemental
October 26 @ 6:00 pm

-

10:00 pm

Join community leaders and supporters of science for Chabot's annual Starlight Gala.
October 26, 6–10 pm
Get Tickets or learn more about sponsorship
Our annual Starlight Gala supports education programs that promote science literacy and lifelong STEM learning throughout our community.
About Starlight Gala
A MASSive Theme
This year's theme alludes to the ubiquity of science in our lives. Energy and excitement is a catalyst for the new initiatives currently taking place at Chabot. Like the elements, Chabot's impact serves as the fundamental building blocks that produce a more engaged and curious community.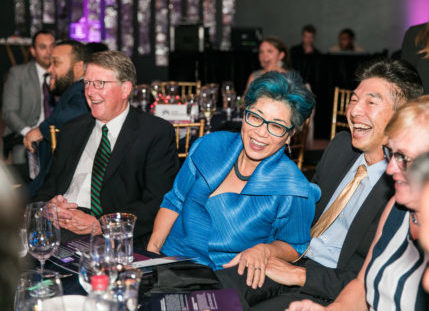 An Effervescent Evening
The setting is our beautiful Science Center, an award-winning feat of architecture nestled among the redwoods, featuring sweeping views of the Oakland Hills and the San Francisco Bay from our observatory deck. The evening will begin at 6 p.m. with a chemical cocktail hour, followed by the nucleus of the event, a delicious meal paired with local wines.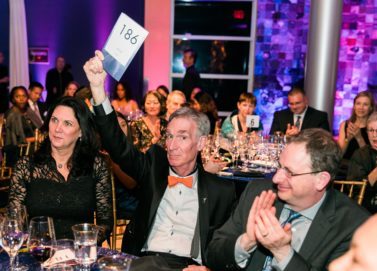 Be part of the solution
When you attend Gala, you help us increase science accessibility for learners of all ages. All proceeds will support Chabot's comprehensive science education programs, which touch the lives of youth who might not otherwise encounter the flicker of interest that becomes the spark and turns into passion.
Champions of Science Awardees
Dr. Yvonne Darlene Cagle M.D.
We're excited to honor Champions of Science awardee, astronaut Dr. Yvonne Darlene Cagle. A NASA astronaut and consulting professor at Stanford University, Cagle is also the recipient of the National Defense Service Medal, Air Force Achievement Medal, United States Air Force Air Staff Exceptional Physician Commendation and National Technical Association Distinguished Scientist Award.
Dr. Eugene L. Tu
We're proud to honor Champions of Science awardee, NASA Ames Center Director Dr. Eugene L. Tu for leading a staff of civil servants and contractors in providing critical research and development support that makes NASA's and the nation's aeronautics and space missions possible. Tu received the NASA Outstanding Leadership Medal in 2000 and the Presidential Rank Award for Meritorious Executive in 2009.
Sponsor Starlight Gala
For more information about the 2019 Starlight Gala or to join as a sponsor or serve on the Dinner Committee, please contact Jessica Horowitz at jhorowitz@chabotspace.org or (510) 336-7305.
Dinner Committee
Dinner Committee is available for $2,500. Members are recognized with two tickets to the Gala, premium seating for the evening, and prominent recognition in our Gala invitation and program. In addition, you'll receive a complimentary Stellar Society membership.
Atomic Sponsorship
Half-table Atomic sponsorships are also available at $5,000. Sponsors are recognized with logo acknowledgement in event materials.
Orbital Sponsorship
Table sponsorships include Dinner Committee recognition and a table for 10. Available at $10,000. Sponsors are recognized with logo acknowledgement in event materials.