Field Trips

Connect with Chabot Educators on a Virtual Field Trip
For the 2020-2021 school year, we have shifted to a virtual learning model so that we can bring science exploration to you. Virtual Field Trips will take you through a full field trip day of science exploration-whether you're in the classroom, distance learning, or in a learning pod. 
We have a variety of interactive, NGSS-aligned content available for all grade levels, K-8. Each pre-recorded video comes with built in time for discussion, pause/play timestamp options to fit your learning schedule, extension activities, and a how-to guide to help you facilitate your custom field trip day.  
Reservation Process
Step 1: Read through the complete video descriptions, and choose the activities that work best for your class. 
Step 2: Create your own field trip experience by selecting the activities that fit your student's needs and interests, or select a curated bundle designed by our Education team. 
Step 3: Fill out the reservation form.
Once your form has been received, a member of Chabot's education team will be in contact to confirm your Virtual Field Trip! 
Note: If you have a credit from the 2019-2020 school year, you can choose to use a portion of that for a virtual trip this year, or extend your credit into next school year. All credits have been extended to May 2022. 
Pricing & Bundles
Create your own Field Trip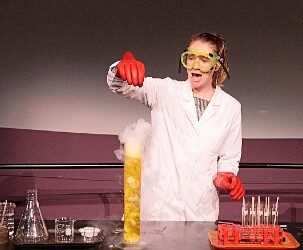 Pick any combination of videos to build your own Chabot field trip experience:
Workshops – $200 each
Mars Lander Challenge
Our Amazing Moon
Planetarium Show – $100
Passport to the Solar System
Science Shows – $50 each
Rocket Fuels Lab
The Chill Zone
---
Additional Teacher Resources
Live Science Shows
Streaming on YouTube and Facebook Live every Wednesday from 10:30 – 11 AM.
Tune in to see one of our Science Educators lead a thought-provoking demonstration of a phenomenon of science! We'll ask for observations and explanations of what YOU think is happening before revealing the science behind it. Then, we'll end with a live Q&A for those burning questions.
Learn More 
Learning Launchpad Activities
Enjoy hands-on activities that can be done with home materials from Chabot's Learning Launchpad. We are bringing science to life with content created by our very own education team! Learn, create, engage, interact and get inspired with us.
Zoom Backgrounds
Transport your class to Chabot Space & Science Center with special background images to use in virtual classrooms and meetings. Images will make it look like you're inside Chabot's historic telescope domes, stunning museum spots and even the corners of space with stunning astrophotography from Chabot's astronomers.
Chabot Galaxy Guide
We are also pleased to provide our Chabot Galaxy Guide for all field trips that will include open ended discussion and activity questions that can be completed wherever your students are. Chabot Galaxy Guide will be included in your confirmation packet and will be available online soon.