First Friday: Dinosaurs!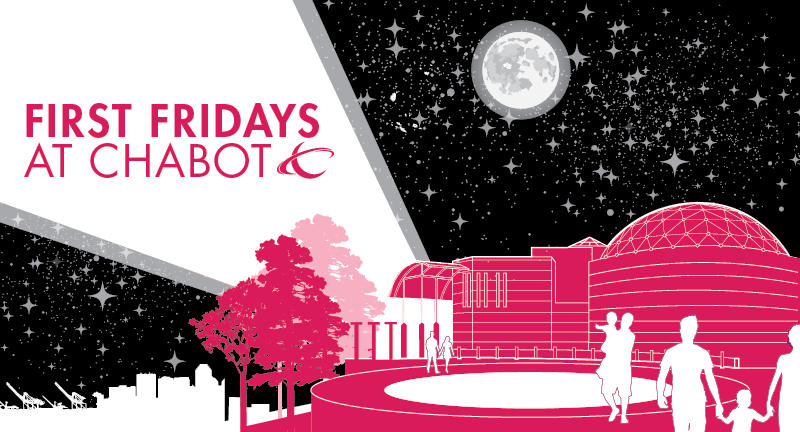 An Exciting and Immersive Experience Every First Friday
Each $5 First Friday at Chabot is an exciting and immersive experience for all ages! Join us each month for hands-on activities and live demonstrations that are fun for the whole family. Each month there will be new things to explore!
Some activities have limited capacity and are first come, first served. $5 admission begins at 6pm, and does not apply from 10am-5pm. The Center is closed to the general public between 5-6pm (with the exceptions of current CSSC members) and reopens at 6pm for $5 First Friday.
TRAVEL BACK IN TIME TO A PLACE WHERE DINOSAURS RULED THE EARTH!
Meet paleontologists, uncover fossils, participate in a giant dig and understand what life was like for animals in prehistoric times!
SCHEDULE:
DJ DANCE PARTY!
Time: 6-10pm
Location: Rotunda
Join the DJ for a giant dance party for all humans and velociraptors!
ZEISS ASTRONOMY PRESENTATION: THE SKY TONIGHT
Times: 6:30pm & 7:15pm
Location: Planetarium
Explore the cosmos as a Chabot Astronomer leads you through the galaxy using a Zeiss Universarium Mark VIII Star Projector. This recently restored Zeiss projector uses advanced fiber-optics to project stars with astonishing clarity.
MINI MISSIONS: ESCAPE FROM MARS!
Times: 7pm & 8:30pm
Location: Challenger Learning Center
Do you have the right stuff to make an emergency escape from the Red Planet in your spacecraft? Join us this First Friday for this new, exciting, and immersive mission simulation.
PARTICIPANT SELECTION PROCESS:
· Must be 10 years or older to participate
· Maximum 12 participants per mission
· Participants for each mission will be drawn through a raffle.
· Raffles for each mission will take place in front of Challenger Learning Center starting at the following times: 6:45pm and 8:15pm
· Those not drawn in the raffle are invited to observe from Mission Control
STORY TIME
Times: 7:15pm & 8pm
Location: Observation Deck
Gather around our Master Storyteller and hear exciting tales! Fun for the whole family.
TELESCOPE MAKERS WORKSHOP
Time: 7-10pm
Location: Chemistry/Physics Lab
Open to all ages, the Telescope Makers' Workshop is an all-volunteer group committed to helping people build their own telescopes. Drop in to see what they are up to.
TELESCOPE VIEWING
Time: 7:30-10:30pm
Location: Telescope Complex
Star Stories
Time: 9pm
Location: Observation Deck
Come listen to an expert stargazer explain the mythology behind the constellations, stories from the night sky as seen throughout history and look for planets and other clues to help orient you to the night's sky.