Planning a Trip to Mars
Saturday, December 29, 2018
2pm
Megadome Theater
Throughout history, human exploration has involved long distance travel, new technologies and lots of advance planning. So it is with missions to Mars and searches for Extraterrestrial Life.   Join us for a special talk linked with Chabot's "Going the Distance theme– Our Reach into Space."   Dr. Margaret S. Race, Senior Scientist at the SETI Institute will explain what's involved in Astrobiology and searches for ET life.   It takes LOTS MORE than just rocket scientists and astronauts.  You'll be amazed at how many career paths are involved.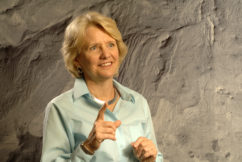 Bio: Dr. Margaret Race is a scientist who works with NASA and SETI Institute focusing on Astrobiology, searches for ET life, and science policy issues associated with space exploration missions and new technologies.  Her specialty is in Planetary Protection—how to plan robotic and human missions in ways that avoid harmful contamination of both the Earth and other planets.
(Believe it or not, she started out as a competitive swimmer who later studied marine biology and worked with EPA. She did her doctoral research at UC Berkeley studying mud-snails that were brought to San Francisco Bay on the Transcontinental Railroad!)
Margaret grew up in Boston, received her BA and MS degrees from the University of Pennsylvania, and her Ph.D. in Ecology from UC Berkeley. After a postdoc at Woods Hole Oceanographic Institution, she taught and did environmental research at both Stanford (Human Biology Program) and UC Berkeley (College of Natural Resources)—and later joined NASA to work on planetary protection, astrobiology, and science policy issues.