Toast to Apollo 11 With Moon Themed Cocktails
Chabot at Large / Mary Catherine Frantz / July 12, 2019

July 20 is just around the corner, and it's the perfect time for a refreshing lunar cocktail! Toast to this monumental milestone in space exploration with an Apollo 11-themed concoction.
Here are a couple fun recipes for you to try at home or look forward to at Apollo Party this Saturday:
Sip a piece of history! This drink was the first thing sipped by the Apollo 11 crew upon their return to Earth, invented by Joe Gilmore, head barman at Savoy Hotel's American Bar in London.
1 oz. fresh grapefruit juice
1 oz. orange liqueur, preferably Grand Marnier
3 drops rose water
Champagne or sparkling wine, for topping
Combine grapefruit juice, orange liqueur, and rose water in an ice-filled shaker. Shake vigorously and strain into a champagne flute; top with champagne.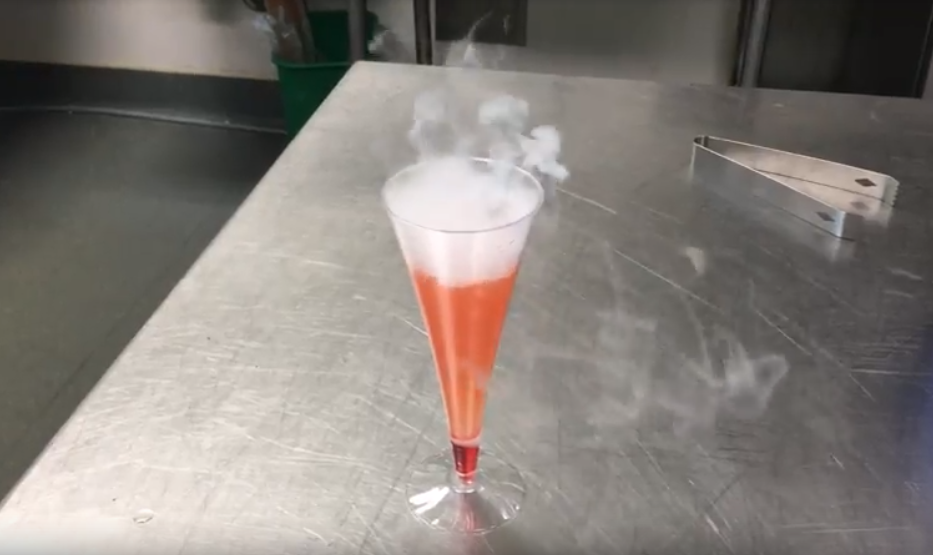 Saturn V Liftoff (no alcohol)
Grenadine
Orange juice
Coconut water
Dry ice
Pour and inch of grenadine in a flute glass. Using a syringe or pipette, layer on top of the grenadine OJ. Add a thin layer of coconut water at the very top. Countdown from 10 and drop in a piece of dry ice to mix the drink and initiate the launch!
Buzz Ald-GIN
Gin
Tonic Water
Mint
Lemon juice
Combine a shot of gin and 3-5 drops of B'lure in a glass. Fill with tonic water and watch the color change from blue to purple. A lemon juice to taste and garnish with mint.
Try all three cocktails at Apollo Party.
Apollo Party is an after-hours, adults-only destination to celebrate the first moonwalk.
Adults 21+ are invited to revel with moon cocktails, a dance floor beneath a radiant Moon, space karaoke and illuminating talks from NASA Ames Research Center, Astrobiologist Julia Demarines and more.