400 STEM Kits created and distributed by Chabot's Galaxy Explorers
Chabot at Large / Natalie Mann / September 17, 2020
As our community adapts to learning from home, Chabot's Galaxy Explorers helped bring science to life for local families at home by creating and distributing 400 free bilingual STEM Kits throughout Oakland.
"This project was really important because the kids during this pandemic should be active and stay learning," said Juliana González, a Galaxy Explorer who worked on the STEM Kits.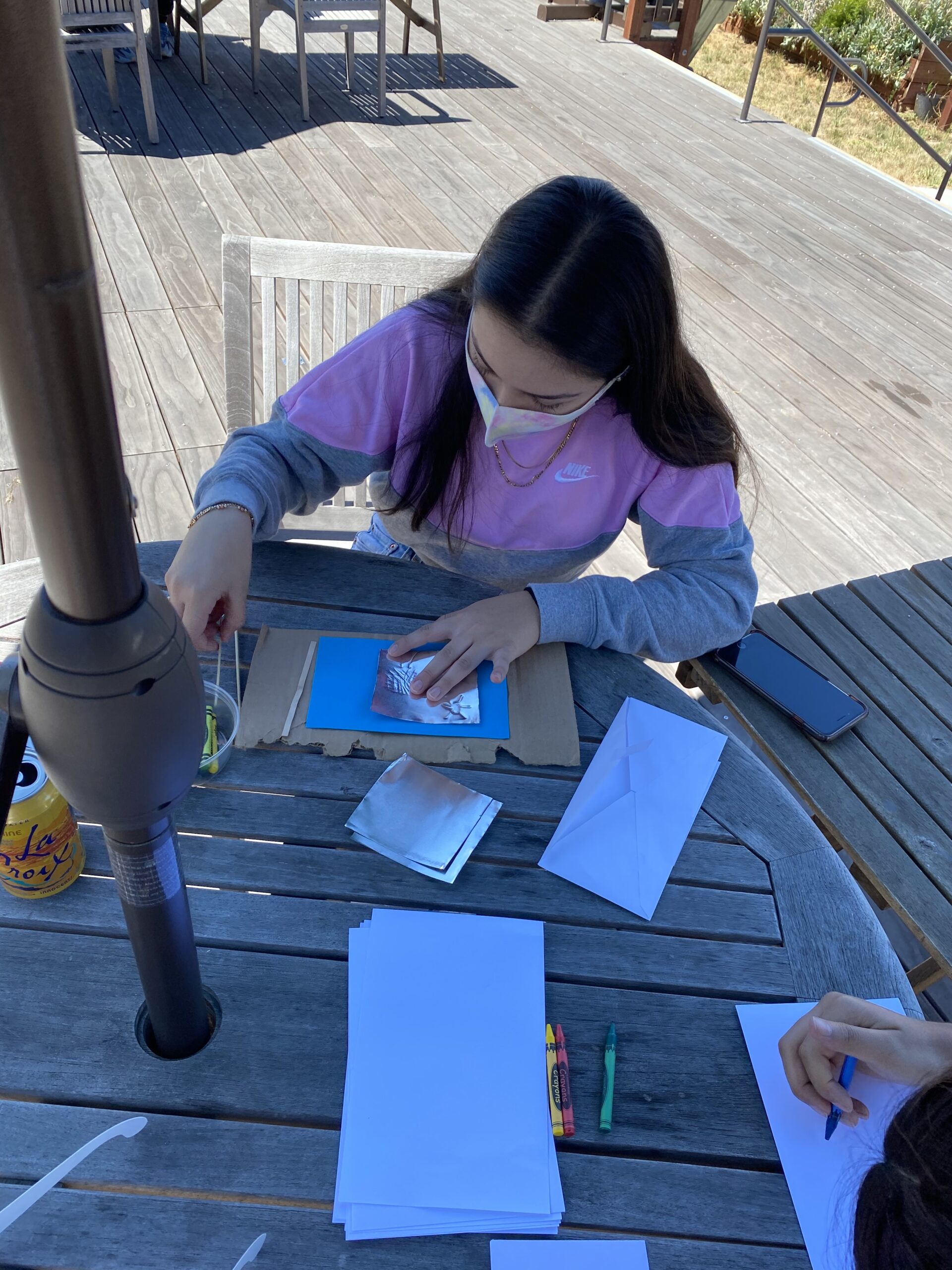 Developed, designed and distributed by the Galaxy Explorer Community Engagement team, these kits provided everything families need to enjoy hands-on science at home.
The STEM Kits included materials and instructions for three engaging activities, a special science zine and additional activities that can be completed with common household supplies. We also included a postcard to encourage kids to write the team a note or draw a picture about their summer science adventures!
---
This project was a truly collaborative effort among the local high school students. Together, they tested, designed and distributed the STEM Kits:
First, the small group tested each activity and decided which were fun and engaging enough to share with younger children.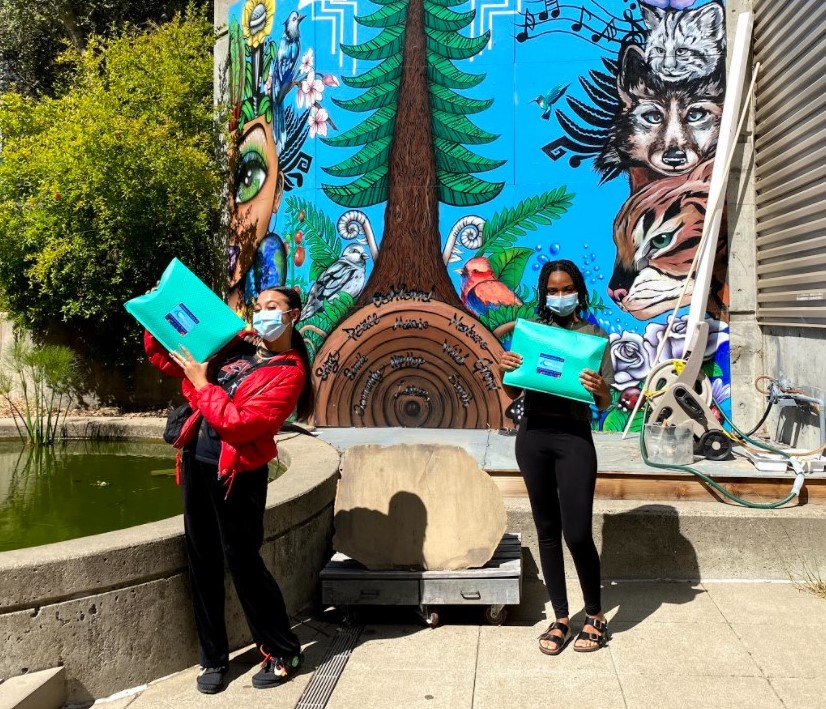 Next, students divided tasks up based on their skills and perspectives. One student, who is a talented illustrator created zine templates, others wrote instructions for each activity, and another translated all the English instructions into Spanish to make them accessible to a broader audience.
"The people that I work with are amazing at what they do. They care for their community," González said.
To get the kits ready for delivery, students came together, masked, outdoors, and physically distanced to package and prepare the materials.
---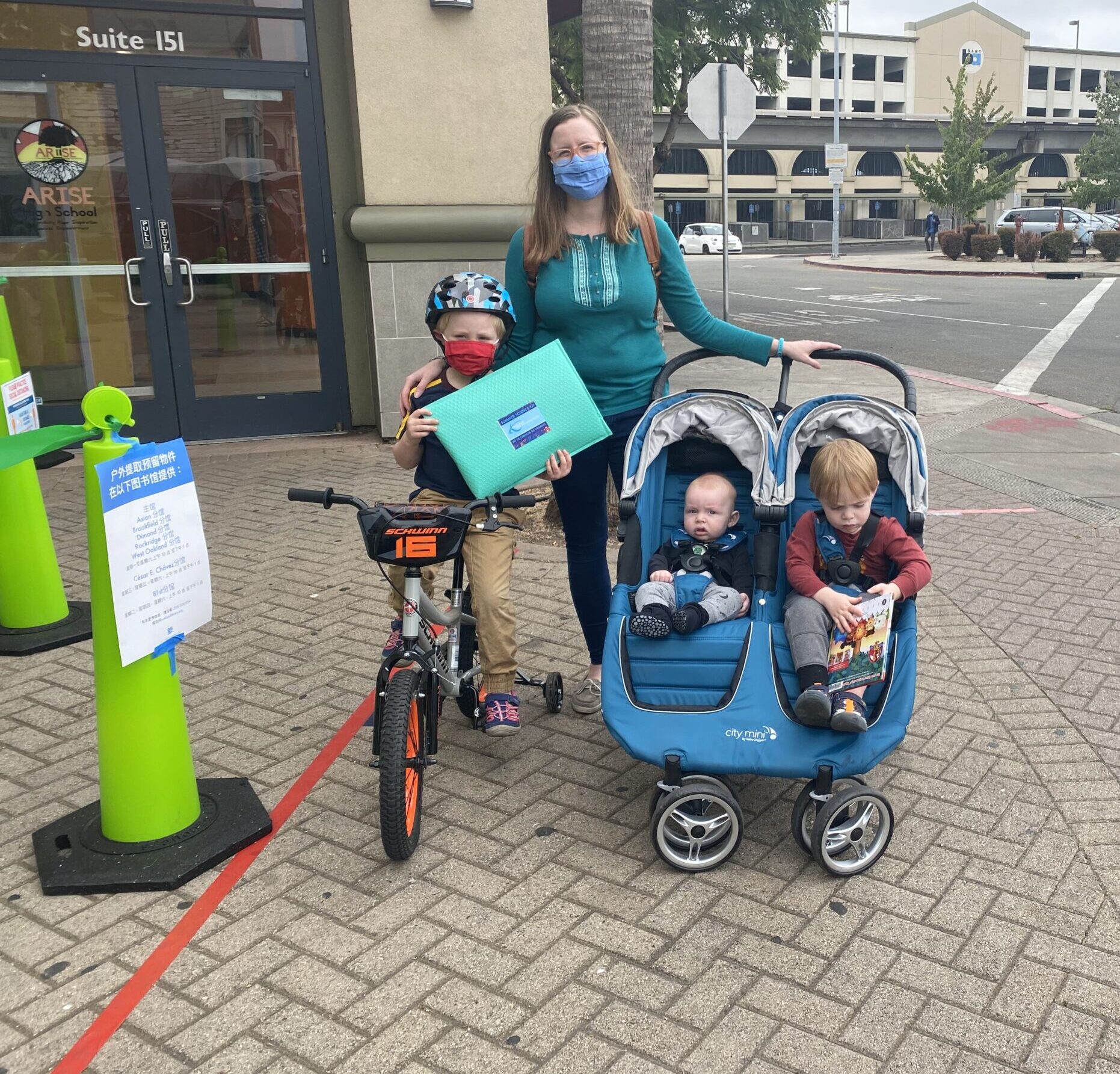 In total, 400 STEM Kits were sent to families through the Oakland Public Libraries and Boys & Girls Clubs of Oakland as part of Chabot's Learning Everywhere Initiative.
At Boys & Girls Clubs of Oakland, the kits were distributed along with backpacks and school supplies during a back to school distribution event. At Oakland Public Libraries, the kits were distributed to kids and their families at the 8 branches offering sidewalk pick-up throughout Oakland.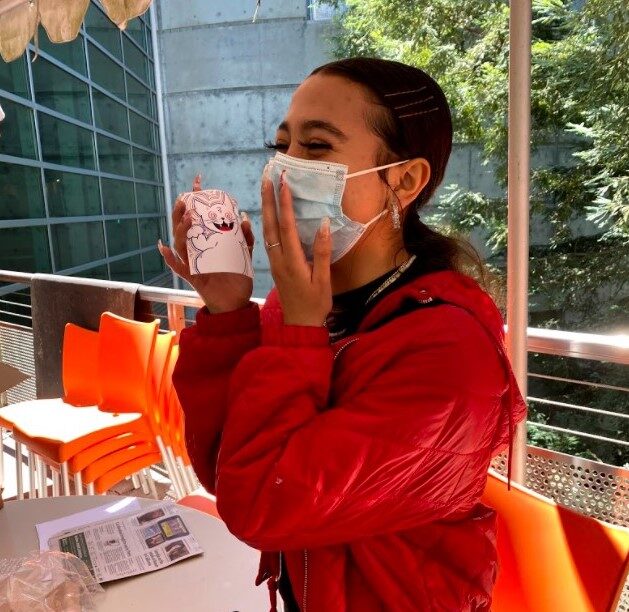 "Having the opportunity to work at Chabot Space & Science Center has helped me out in so many ways, expanding my knowledge by learning something new everyday. I have enjoyed sharing with my community what I've learned," González said.
We were excited to receive postcards back from children who tried the activities from home. It was fun and heartwarming to hear how their science adventures went: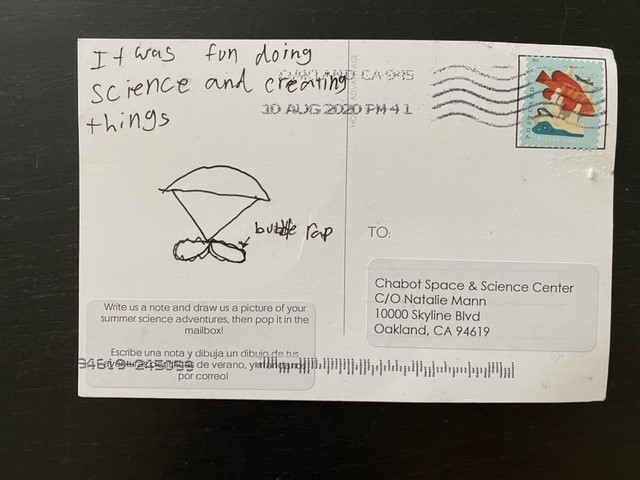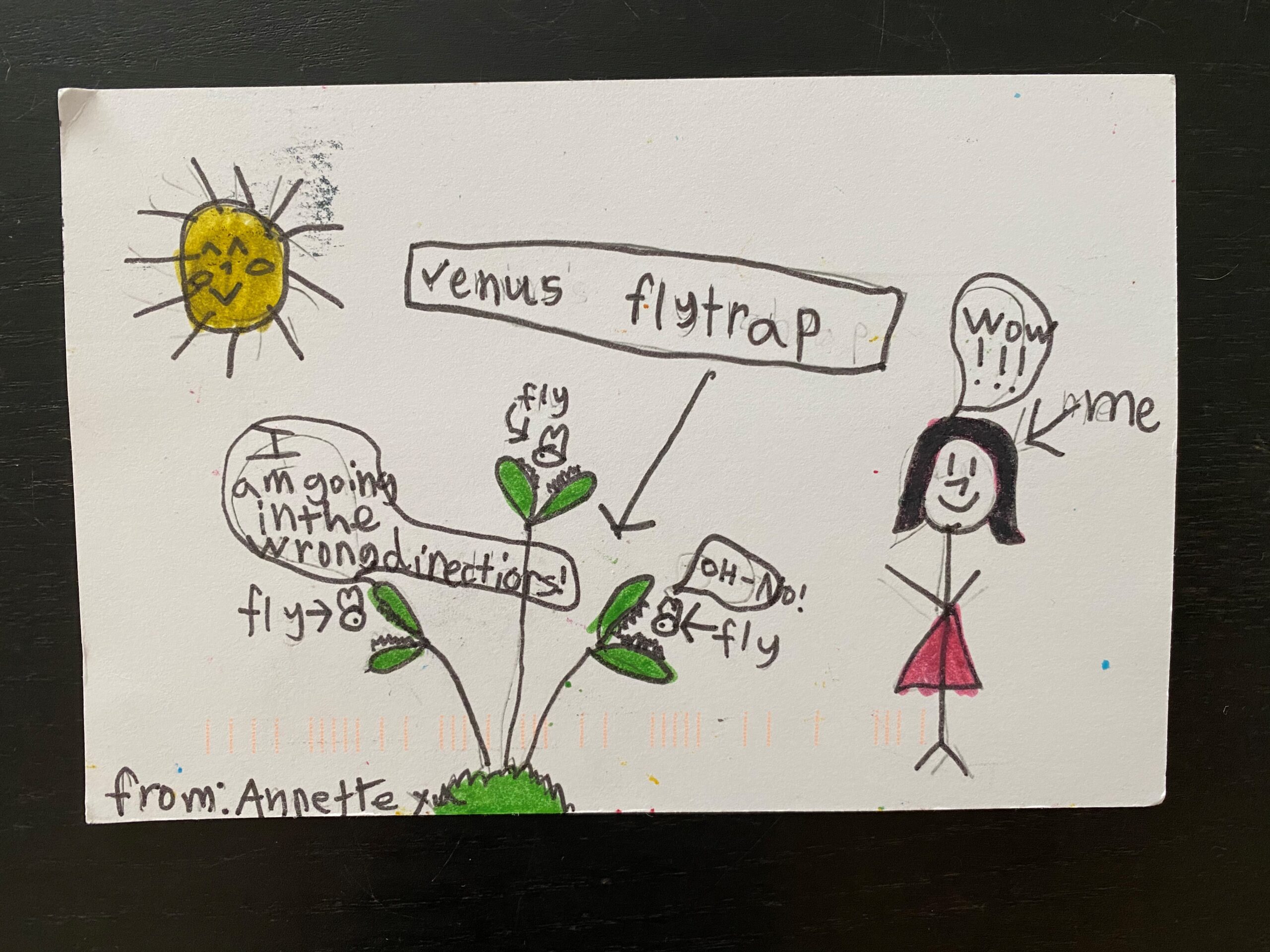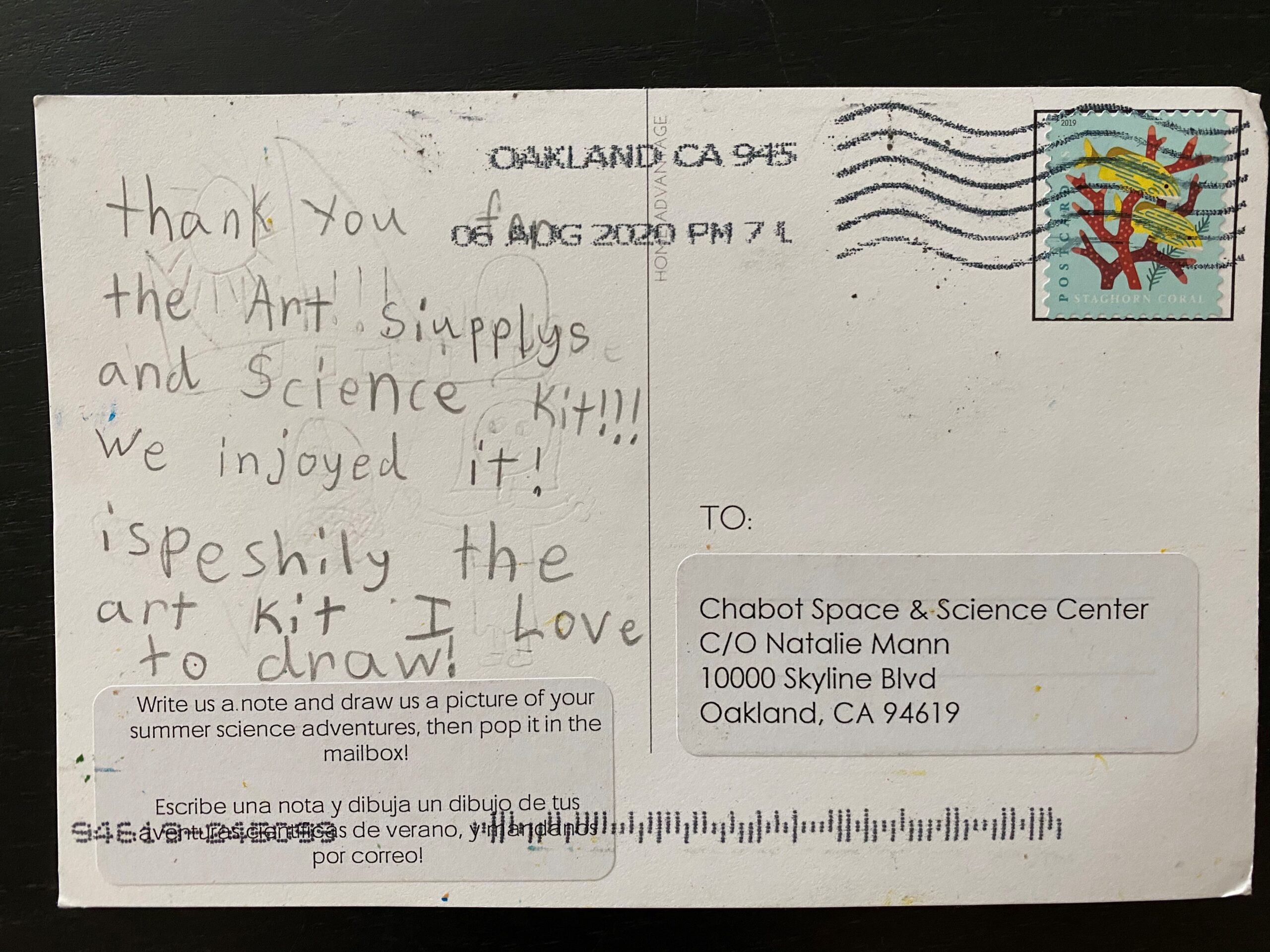 About the Galaxy Explorer Community Engagement Team
The Community Engagement team is a specialized group of local high school students in Chabot Space & Science Center's Galaxy Explorer youth development program. They are students at Skyline High School who are working to bring quality science programming to younger students in the Oakland Community.
This project was made possible by the generous support of the Institute of Museum and Library Services and the Hellman Foundation.