Visit our Space and Science Center, with exhibits, telescopes, a planetarium, and more, in the beautiful Redwoods Regional Park of Oakland.
Center Hours
Wednesday – Sunday
10am – 5pm
Telescope Viewing
Regular Center Hours
Friday and Saturday evenings
Visit our weather station for viewing conditions.
Wednesday, June 19
Explore today's schedule of events and showtimes.
Location
10000 Skyline Blvd.
Oakland CA 94619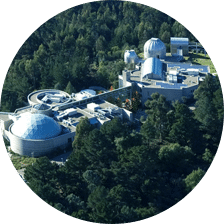 Lectures and Lasers
Brewology: The Science of Beer
June 21
Join us for a talk on the science of creating this delicious ancient drink followed by tastings and a chance to ask your most yeasty questions.
Learn More

Be A Part of the Wonder!
Join Chabot as a member to experience all of the out-of-this-world programs and activities, all year round.
Learn More
The mission of Chabot Space & Science Center is to be a place for students of all ages to learn and be inspired about the Universe and our Planet Earth.