Visit our Space and Science Center, with exhibits, telescopes, a planetarium, and more, in the beautiful Redwoods Regional Park of Oakland.
Center Hours
Wednesday – Sunday
10am – 5pm
Telescope Viewing
Regular Center Hours
Friday and Saturday evenings
Visit our weather station for viewing conditions.
Tuesday, January 22
Explore today's schedule of events and showtimes.
Location
10000 Skyline Blvd.
Oakland CA 94619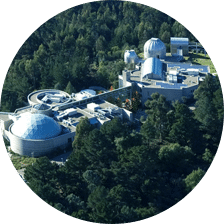 Total Lunar Eclipse
Viewing
January 20, 6:00 pm - 10:00 pm
CHANGE: Due to weather conditions, event will be held indoors.
Weather Permitting. $8 per tickets. Members Free.
Learn More
Bay Area International Children's Film Festival
Playdate for the Imagination™
February 16-17, 2019
Join us for a weekend that includes internationally celebrated family-friendly films, special presentations from Award-Winning Pixar filmmakers, hands-on animation workshops and more.
Learn More
The mission of Chabot Space & Science Center is to be a place for students of all ages to learn and be inspired about the Universe and our Planet Earth.