Starlight Gala: Relaunch

C
elebrate Chabot's reopening and
largest 
transformation
since 2000
October 23, 2021
6-10 p.m.
Chabot Space & Science Center will host our annual Starlight Gala to support our innovative STEM education programs that have direct outcomes on our community. Join us as we celebrate Chabot's long-anticipated reopening with a roving dining experience, behind-the-scenes tours, interactive programs, stargazing and more!
To ensure a fun and safe celebration, all event guests are required to be fully vaccinated for COVID-19 or receive a negative COVID-19 test within 72 hours. Be prepared to show proof of full COVID-19 vaccination or COVID-19 test and a valid photo ID upon arrival.
Program
6 PM Takeoff to Cocktails and Exploratory Programs, Exhibit Tours, Demonstrations, and Live Music
7 PM Roving Dining throughout the Center
9 PM Prepare for Impact Program & Raise the Paddle
Featuring our Champion of Science Awardees:

Kits Cubed Founder, Ahmed Muhammad
New York Times bestselling author, Andy Weir
10 PM Launch to New Ventures
Relaunch
This year's theme, Relaunch, was chosen because Chabot is launching into its next chapter with exciting advancements towards our mission during this milestone year, we have found an opportunity to refocus and re-envision who we are as an institution. Using this upward momentum, we are now ready to Relaunch Chabot Space & Science Center as a more impactful home for science in Oakland.
A New Experience
In keeping with this year's theme, we're reimagining this year's Gala experience to be more interactive, engaging and Chabot-centric.  Immersive roving dining and learning experiences will make for an unforgettable, unconventional evening. This event will relaunch the extensively renovated Center prior to our grand reopening in November. 
Gala guests will be among the first to explore The NASA Experience, a visitor center for NASA's Ames Research Center. Enjoy an exclusive preview of this immersive, dynamic, STEM learning environment that puts the visitor into the role of a NASA researcher.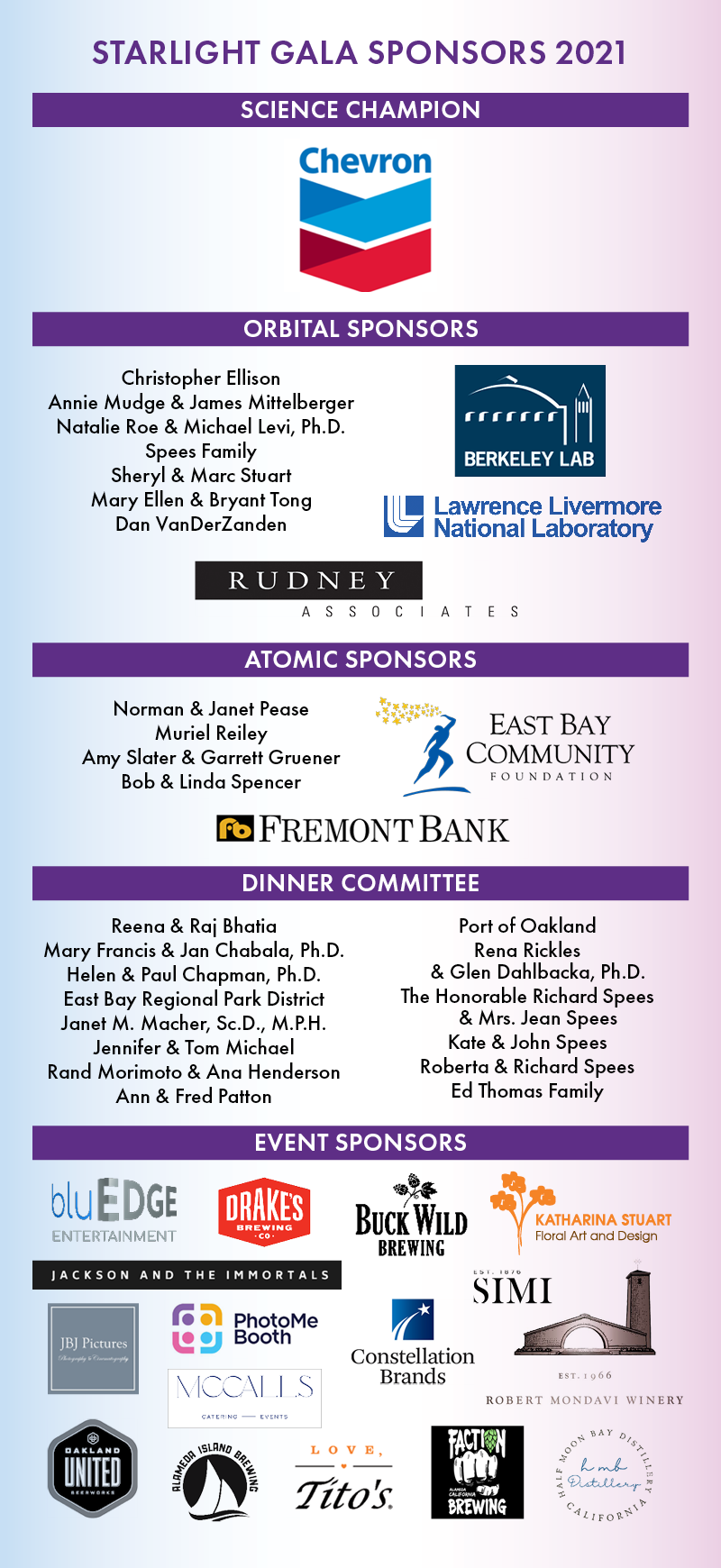 Sponsor Starlight Gala
Building on Chabot's long history of impact in the East Bay, proceeds from Starlight Gala benefit Chabot's STEM education programs. For more information about the 2021 Starlight Gala or to join as a sponsor or serve on the Dinner Committee, please contact Jessica Horowitz at jhorowitz@chabotspace.org or (510) 336-7305.