Lectures & Lasers
April 19, 2019 @ 6:30 pm

-

10:00 pm
Want to impress your friends with your knowledge of science and culture? Looking for a new date night activity? Just want to kick back and watch a laser show? Join us at Chabot for our new Lectures & Lasers series! Every month we'll be joined by experts, writers, and entertainers to delve into a new topic from rocket launches to pop astrology and everything in between. Then grab a drink and head to the planetarium dome for an immersive, multi-sensory music and laser light show. Shows, including the Beatles, U2, and Pink Floyd, will rotate each month. Beer, wine, non-alcoholic beverages, and desserts will be available for purchase. Ages 21+
Schedule
7-8pm: The Neuroscience of Cannabis
8:15p-9pm: Pink Floyd's The Wall Laser Show
9:15-10pm: Pink Floyd's Dark Side of the Moon Laser Show
Get lit with lasers!
Want to impress your friends with your expansive knowledge of science and culture? Looking for a new date night activity? Just want to kick back and watch a laser show?
Every month we'll be joined by scientists, experts, writers, and entertainers to delve into a new topic from rocket launches to cannabis to pop astrology and everything in between. Grab a beer and head into our Planetarium for a unique talk followed by not one, but TWO laser light shows. Bring your friends, bring your lovers, bring your parents! Ages 21+
Laser shows featuring music from Led Zeppelin, Pink Floyd, The Beatles, and more will rotate each month. Beer, wine, soft drinks, and snacks will be available for purchase.
Schedule
7-8pm: The Neuroscience of Cannabis
8:15p-9pm: Pink Floyd's The Wall Laser Show
9:15-10pm: Pink Floyd's Dark Side of the Moon Laser Show
The Botanical Genius of Cannabis
The medicinal, mind-altering, material, and nutritional qualities of Cannabis have resulted in human relationships with this plant dating back thousands of years. Its complex and unique chemistry has fostered the development of important discoveries in neuroscience. And the current evolution of its social and legal status has created challenges and opportunities for innovative thinking in the realm of public policy.
Speaker
David Presti
University of California, Berkeley
Department of Molecular and Cell Biology
Bio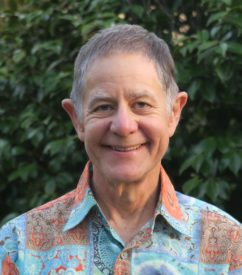 David E. Presti is a teaching professor of neurobiology, psychology, and cognitive science at the University of California, Berkeley, where he has been on the faculty in molecular and cell biology for nearly 30 years. For more than a decade he worked in the clinical treatment of addiction and of post-traumatic-stress disorder at the Department of Veterans Affairs Medical Center in San Francisco. And for the past 15 years, he has been teaching neuroscience and conversing about science with Tibetan Buddhist monastics in India, Bhutan, and Nepal. He has doctorates in molecular biology and biophysics from Caltech, and in clinical psychology from the University of Oregon, and is author of Foundational Concepts in Neuroscience: A Brain-Mind Odyssey (2016) and of Mind Beyond Brain: Buddhism, Science, and the Paranormal (2018).