Celebrating the latest chapter in a 137-year legacy of inspiring and educating.
In August 2020, we celebrated the 20th anniversary of Chabot Space & Science Center at our Skyline location. We are looking back at the last 20 years of memories in the Redwoods. Chabot has been a proud cultural institution of Oakland for 137 years, and these last 20 years of serving our community from the Skyline location has been an incredible era of growth and transformation.
Since 1883, we have inspired and educated learners of all ages, launching new generations of problem solvers, innovators and critical thinkers along the way. We're inviting you to join our legacy by becoming a member or making a donation today.
Highlights from 20 Years On Skyline
Partnered with the Boys & Girls Club to offer accessible STEM workshops to our community through our Learning Everywhere Initiative.
We brought science to life with the help of hundreds of local high school students, who engaged in hands-on science demonstrations and impactful community service through our Galaxy Explorers program.
Celebrated the New Year every year at the strokes of midnight around the world with our annual Balloon Drop.
Brought a piece of the Moon to Oakland with moon rocks from the Apollo 15 and Apollo 16 mission.
Found new ways to tell stories with Tales of the Maya Sky. The first digital full-dome show highlighting a Latin American culture, was produced and premiered at Chabot.
Raised awareness of climate change in Bill Nye's Climate Lab through interactive displays and solutions-based activities.
Invited visitors to observe the world around them in new ways on our 3200-square foot Observation Deck.
Memories from Our Community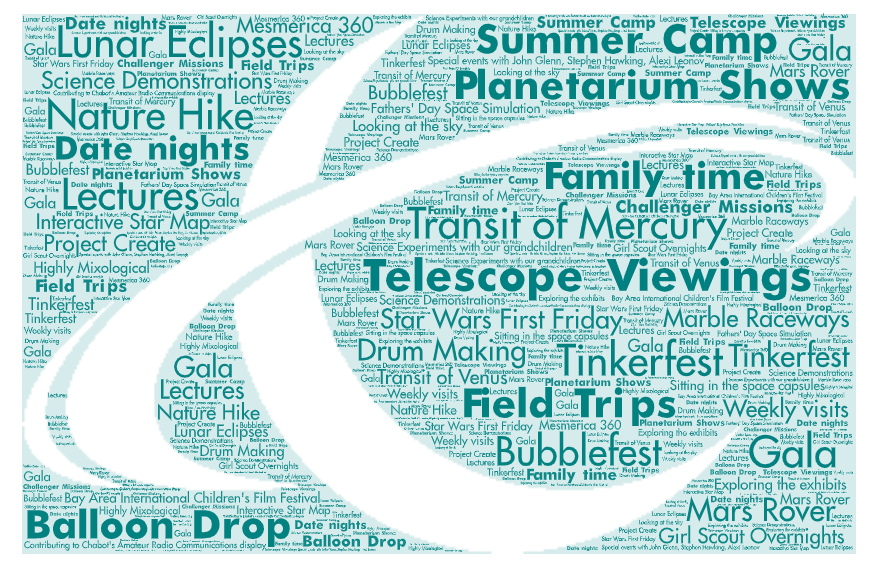 We asked our visitors, members, community partners, volunteers and staff: what have been your favorite memories at Chabot?
Here are some of their favorite moments from the past 20 years at Skyline:
Our favorite memories were spending time together as a family, watching our little one develop an appreciation for science.
-Chabot Member
I remember the many hours spent outside with bottle rockets being a highlight. The Galaxy Explorers had so much fun assisting young guests as they build their rockets and then launch them
-Sarah, Former Galaxy Explorer
My best memories were made during weekly visits with my kids. They love the Marble Run and Discovery Lab!
–Chabot Member
As a Telescope Operator, sharing information about the Universe has been one of the highlights of my retirement years. Many adults and children are excited to view a planet, the Moon or deep sky object for the first time through our historic telescopes.
-Rick, Chabot Volunteer
Bubblefest was the most magical day at the Center, and the most soapy!
-Chabot Member
One of my favorite Chabot memories was during a Saturday observing night. We were looking at a full moon through clouds in Leah, and I managed to take a pretty good photo with my phone through the eyepiece.
-Gabrielle, Volunteer
My favorite memory was the first time I saw Sautrn in the telescope. It blew my mind because for the first time, I saw a planet, not in an art depiction, but for real. And it really looked like the pictures!! I had to get back in line a second time to see it again. It was truly amazing.
-Erika, Chabot Member
I was privileged to be on site on the night when Nellie, the newest telescope, underwent "first light." We viewed the Ring Nebula through the eyepiece and on-screen. It was an amazing view!
-Alan, Chabot Member & EAS Volunteer
I love going to Chabot on field trips as well as with my family. I love watching my family's eyes light up.
-Chabot Member
More On The Horizon
Our 20th anniversary is a time to reflect on our history, and a moment to look forward at the future of Chabot Space & Science Center. 2020's challenges have created an opportunity for the Center to reenvision how we serve our community. While our doors are closed to general admission, our institution is anything but closed. There is profound transformation happening at Chabot. Our team is learning, prototyping and planning exciting new initiatives that we are thrilled to announce.