Adult Volunteers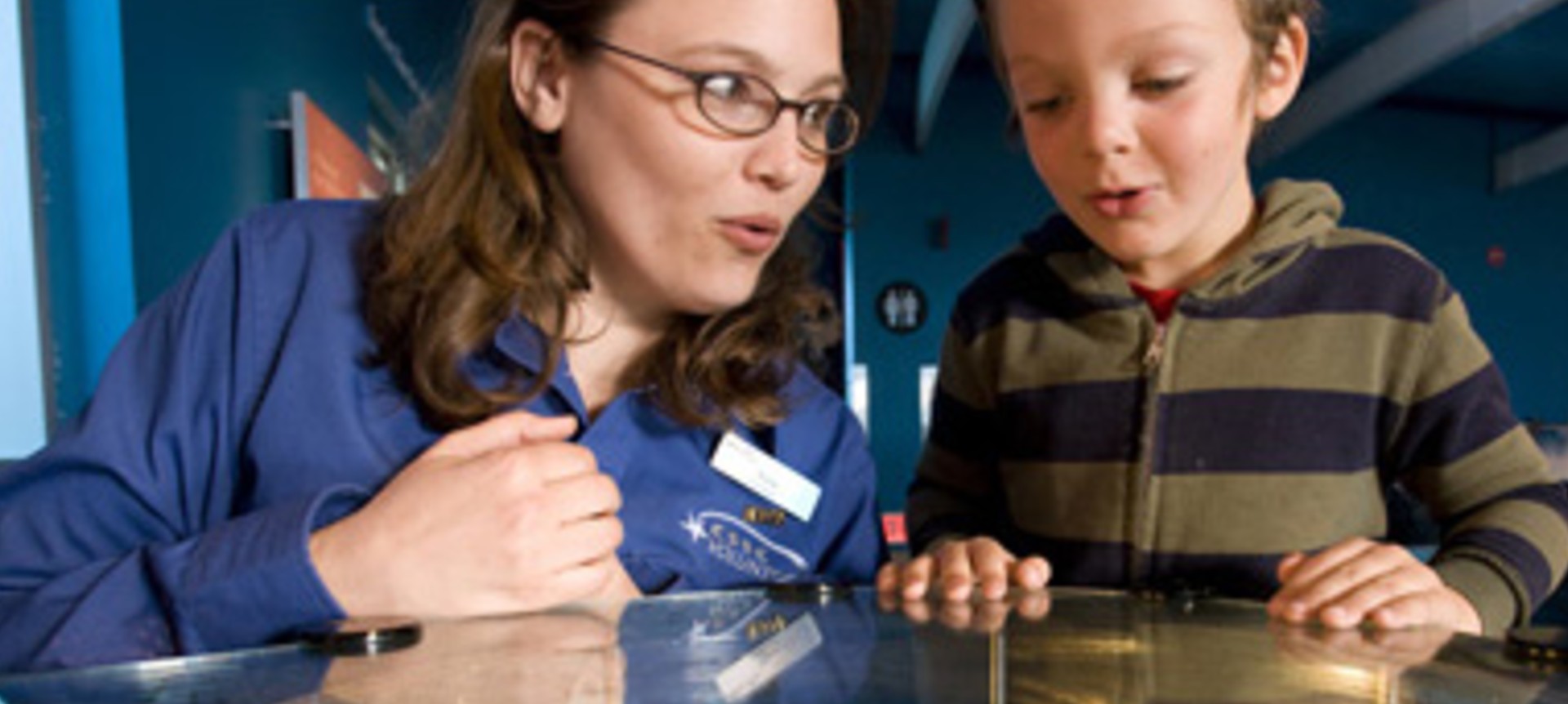 Share the Wonder..
Join a dynamic team dedicated to creating a FUN and interactive science experience for our visitors. We do not require a science or astronomy background to apply, just a healthy sense of adventure and desire to learn and share!
Chabot's mission is to inspire and educate students of all ages about our Planet Earth and the Universe. We are an interactive facility and it is vitally important that volunteers are comfortable dealing with the public, and enjoy engaging children and adults. Below are some questions and answers that may help you in making your decision to volunteer:
What is the time commitment?
We ask our volunteers to work 8 hours per month and at least 1 year. Some extra training hours may be required, depending on your role.
How much Science do you need to know?
For some positions, knowledge of basic science and astronomy is helpful. However, if you have a passion for learning, we have plenty of resources to share. Explaining content is not the focus of our volunteer training. We believe that the visitor drives their own learning and that a science center is about exploration, fun and experiencing the process of science. A volunteer's primary goal is to make the visitor feel comfortable, inspired and curious about the world and universe around them. Our trainings will teach you how to effectively engage the public in conversations and fun interactive experiences.
What is the application process?
Determine if you have the time to commit to training and volunteer service
RSVP for the next orientation online or call for information
Attend a volunteer orientation
If your strengths, skills and interests match Chabot's volunteer needs, you will be matched with a volunteer opportunity and on the job training will begin.
What training is available?
Training is provided by Chabot staff and volunteers in science content and technical areas.
Orientation: All volunteers receive an overview of Chabot's mission, vision and volunteer program, facility tour, customer service training, and an outline of safety policies and procedures.
Mentoring Sessions and Self-Guided Training activities help acclimate volunteers to their jobs. Beyond the initial mentoring sessions, training is "on-the-job" training and requires initiative and self-direction.
Enrichment: Chabot offers monthly training workshops and enrichment lectures designed to enrich the volunteer experience and to enhance volunteer knowledge of space and science. In addition, Chabot offers adult classes in astronomy and other fields of science.
Formal Training classes in Customer Service, Exhibit and Telescope facilitation are offered a few times each year.
Volunteer Incentives
Professional development through a variety of training and enrichment programs
Free General Admission to Chabot Space & Science Center
Free Planetarium Shows & Megadome Theater Shows
Community service hours or credit
Exhibit Previews
Special Volunteer Membership Discount
Networking and experience in a potential career field
Discounts in our Starry Nights Gift Shop & on activity packages
Recognition events
Discounted education workshops, classes and events
Fun and interactive community
What volunteer opportunities and shifts are available?
Chabot is closed to the public Monday and Tuesday, so volunteer shifts typically take place Wednesday – Sunday. We have daytime and nighttime volunteer shifts available. See individual opportunity descriptions for details and shift schedules.
Science Demonstrator
Floating Docent
School Group Guide
Teacher's Assistant
Challenger Learning Center®
Observatory Deck
Information Desk
Outreach/Special Events
I'm interested!
Volunteer Orientation is offered three times per year and will cover the following:
Introduction to Chabot Space & Science Center's fascinating history and mission within the community
Volunteer Program structure, training, and perks
Overview of volunteer positions by experienced volunteers
Opportunity to experience the center and observe volunteer roles in action
Next steps to apply and get started. BRING YOUR CALENDARS FOR SCHEDULING.
Light refreshments provided
More Questions?
Please note: Due to volunteer needs and training schedules, we are only able to accept new volunteers during the scheduled volunteer orientation times. Orientations generally take place in the fall, new year, and early summer.
Our next orientation will be Spring 2020.
For additional information, contact:
Volunteer Department at (510) 336-7464 or Volunteers@ChabotSpace.org
Thank you for considering a volunteer commitment with Chabot Space & Science Center!
Opportunity Descriptions
Science Demonstrator
Demonstrators use interactive activities and demos to engage our visitors in hands on science.  This vital role is at the core of the Chabot experience, with the opportunity to spark and enthusiasm for science in students of all ages.
Floating Docent
Docents engage visitors of all ages in thoughtful interpretation of and conversations about Chabot Exhibits. This key volunteer role is the catalyst that makes science and space magically come to life in our center.
School Group Guide
Wednesday – Friday School Group Guides work directly with school groups to enhance the field trip experience. Guides greet and orient classes, use interactive methods to introduce each exhibit, usher Planetarium and Theater shows, and generally act as a liaison between the group and the Center. For those interested in working with youth, this is one of the most hands-on and rewarding volunteer roles at Chabot. You can be the spark that lights a child's imagination on fire.
Classroom Assistant
Chabot offers school groups interactive classes in Astronomy, Biology, Chemistry, Physics, and Environmental Science. Volunteers assist in planning and implementing the daily program under the direction of the Class Instructor. Assistance includes planning and preparing the learning environment, setting up interest centers, and preparing materials and supplies.
Challenger Learning Center® Mission Specialist
As members of the Challenger Learning Center® Flight Crew, volunteers assist mission participants on simulated space adventures, complete with mission control and spacecraft! Volunteers will support the Mission Commander and Flight Director in facilitating a variety of space scenarios.
Observatory Deck Crew (Telescope Guide)
Day: Observatory Deck Daytime Volunteers have the unique opportunity to introduce the sunlit sky as well as Chabot's spectaculartelescopes to student groups and visitors. Volunteers will share the history of Chabot's telescopes and how they are used and lead or assist with daytime observing of the Sun, Moon and planets.
Night: Chabot's telescopes are the foundation of the center. Astronomy Programs are presented on Friday and Saturday evenings free to the public. Astronomically-inclined volunteers share the history and use of our telescopes including the 8″ & 20″ refractors and 36″ reflector helping visitors explore the nighttime sky and the universe beyond. Extensive training provided.
Information Desk
After purchasing admission tickets and passing the front desk, visitors of often left unsure of what to do next.  Which exhibit should they visit first, what planetarium show is best for their children,  where are the telescopes? Volunteers at the Guest Services Desk provide valuable information, answer questions, and generally orient visitors to the center.
Ambassador
Chabot Event Ambassador is responsible for assisting Chabot Space & Science Center with visitor services , community outreach, special events and science enrichment activities at our center and in the community. Some examples are: assisting at our annual New Year's Eve Balloon Drop, Chabot to Go school outreach, decorating for special events, participating in outreach efforts at fairs, greeting & serving attendees of press previews and donor parties and helping with other event activities throughout the year.