Adult Volunteers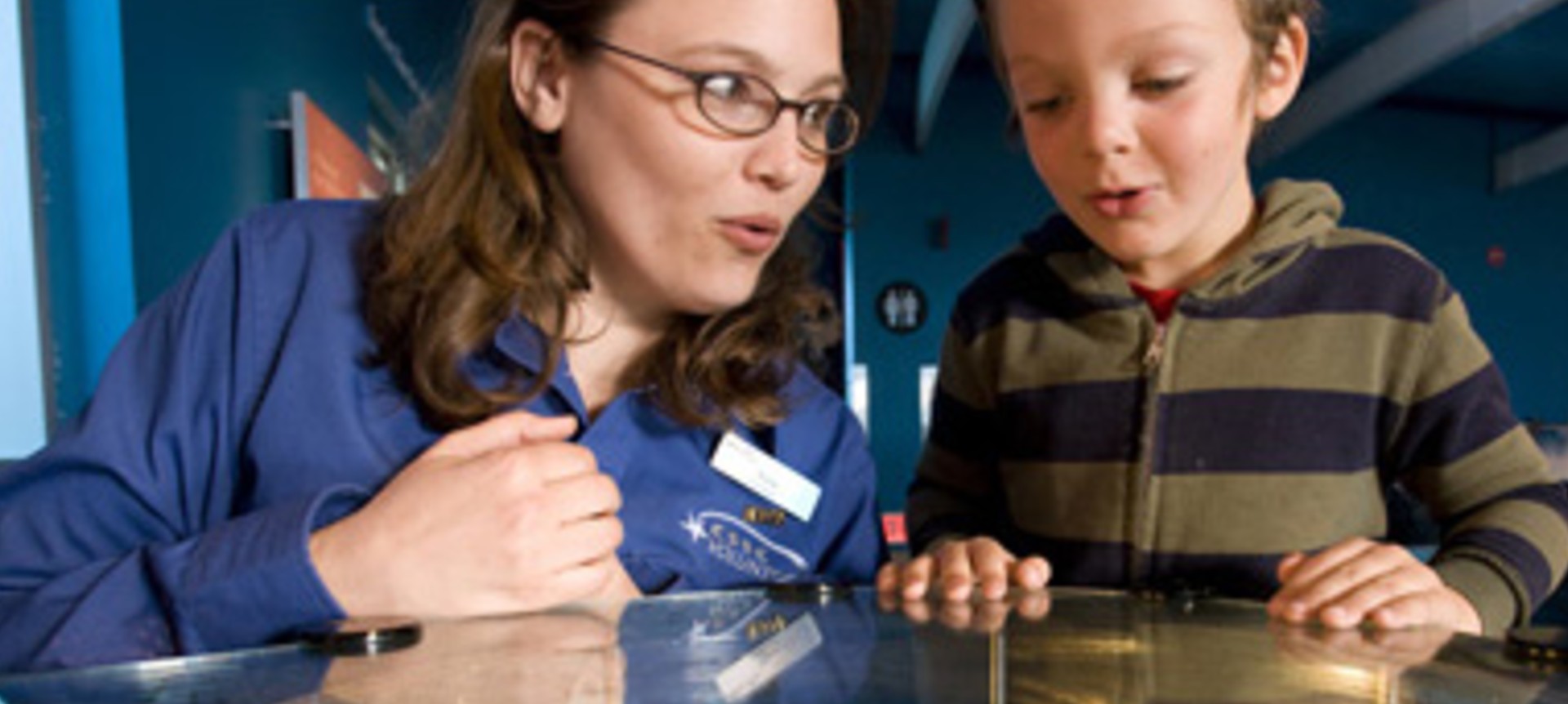 SHARE THE WONDER
Join a dynamic team dedicated to creating a fun and interactive science experience. No science or astronomy background needed, just a willingness to inspire and educate visitors of all ages about our Planet Earth and the Universe. If you are comfortable interacting with the public, enjoy engaging children and adults, and have 8 hours of your time to give per month, consider becoming a volunteer at Chabot Space & Science Center.  
I'M INTERESTED! 
    Attend our next Volunteer Info Session on February 25, 2023 (from 10:30 am – 12:00 pm) to get

more information and apply for one of the volunteer roles

 
QUESTIONS? 
Frequently Asked Questions
What is the time commitment?
8 hours per month. Some extra training hours may be required, depending on your role. Current volunteer roles include Museum Hosts, Exhibit Facilitators, Event Ambassadors, Classroom Assistants and Telescope Operators. 
What is the application process?
Ensure you can commit to the hours above
Attend a volunteer orientation
Complete the volunteer application form
Based on interests and background, you will be offered volunteer opportunities and a training schedule
When are volunteer shifts available?
Chabot is closed to the public Monday and Tuesday. Volunteer shifts typically take place Wednesday - Sunday during the day. Volunteers are also needed for various evening events. 
When do orientations for new volunteers take place?
New Volunteer Orientations are held quarterly, based on volunteer interest and organizational need. 
What does the New Volunteer Orientation cover?
All new volunteers receive an overview of the volunteer program and Chabot's mission, vision, and history. Additional content includes a facility tour, an outline of safety policies and procedures, and an overview of the roles volunteers play at Chabot. 
How much Science do you need to know?
For some positions, knowledge of basic science and astronomy is helpful. However, if you have a passion for learning, we have plenty of resources to share. Explaining content is not the focus of the volunteer experience. We believe that the visitor drives their own learning and that a science center is about exploration, fun and experiencing the process of science. A volunteer's primary goal is to make the visitor feel comfortable, inspired, and curious about the world and universe around them. 
Are volunteer trainings offered? What is included?
Based on the volunteer role, additional training is provided by Chabot staff and volunteer mentors on the following topics:
Mentoring Sessions and Self-Guided Training – New volunteers receive an experienced volunteer mentor in their area of work. Some work requires additional self-guided training.
Enrichment - Chabot offers frequent training workshops, classes, and lectures designed to support volunteers and enhance knowledge of several topics, such as astronomy, science, facilitation, and customer service.
Formal Training Classes – additional classes are offered a few times each year in telescope operation.
What are the incentives for volunteering?
Professional development through a variety of training and enrichment programs
Free General Admission to Chabot Space & Science Center
Free Planetarium shows
Community Service hours or credit
Exhibit Previews
Special volunteer membership discount
Networking and experience in potential career field
Discounts in the Gift Shop
Recognition events
Discounted education workshops, classes, and events
Fun and interactive community
For additional information, contact:
Volunteer Department at (510) 336-7367 or Volunteers@ChabotSpace.org 
Thank you for considering a volunteer commitment with Chabot Space & Science Center!